By Contributing Beauty and Skincare Editor Katrina Hess
Spring brings fresh tones of pink and coral all around us – on trees, shrubs, and on our eyes, cheeks and lips, too! Corals add warmth to create a sunny glow. Pinks add brightness to our complexions.

Fun with Pink and Coral Eyeshadow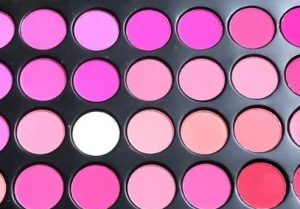 Pink is one of the most versatile shades to wear. When layered just right, pink eyeshadow paired with a neutral eyeliner and mascara can be the perfect hint of color you want for a fresh spring look. Of course you can take it to the next level by using bolder tones!
For Light Skin Tones
As you try these combinations, think outside the norm and experiment with using – and mixing! – pink and coral blushes on your eyes.  A good brush for blending is a medium size, dome shaped eyeshadow brush, referred to as a "blender."
Tip: For all these looks, a touch of gold will complement both pink and coral colors.
Look No.1 – Start with pale pink shimmer all over your eyelid. Add a medium tone pink or coral – why not try a blush? – by applying it to the crease and blending it well. This color combination looks good with gray or navy eyeliner.
Look No.2 – Use a champagne tone eyeshadow all over your lid. Apply a warm pink into the crease, blending well. This looks good with brown or soft black eyeliner.
For Medium Skin Tones
Look No.1 – Use a soft coral/peach on your eyelid. Apply a light pink shimmer to your upper eyelid, just under your eyebrow. This looks good with a very fine eyeliner, or just mascara.
Look No.2 – Use a rosy, metallic shimmer on your eyelid. Apply a bold coral in the crease and blend well. This looks good with deep purple eyeliner.
For Dark Skin Tones
Look No.1 – Apply a bright pink to the eyelid. Use a coral shadow with a bit of shimmer under your eyebrow. This looks good with black liner.
Look No.2 – Apply a gold shimmer on your eyelid, and apply a bold pink in the crease. Use a soft pink under your eyebrow. This looks good with navy, purple or black eyeliner.
Tip: For any of these combinations, try using pink in the inner corner of your eyes to brighten. Use light pink under your brows to lift and define your perfect arch.
Brighten Your Smile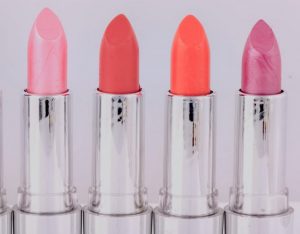 Apply pink or coral lipstick, balm or gloss to your lips. Then take the opposite color to apply it to the center of your lips. It doesn't always need to be blended. For a great look for spring evenings, top it all with a gold lip gloss.
Tip: Matte pink applied above your lip in a Cupid's Bow defines your lips.
Get Cheeky with Color!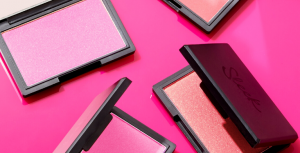 I like to mix colors on the cheek. Use a warm (dirty pink) on your cheekbone, and add a touch of bright coral to the apples of your cheek.
Tip: A light shimmery pink applied to the high cheekbone lifts the cheeks.
I hope you have fun trying these color combinations for spring. Experiment and find your best look, one that makes you feel cheerful as we head into the new season!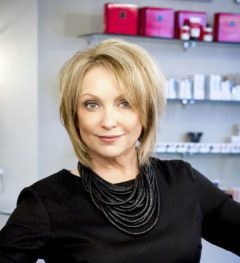 Boston-based Katrina Hess is a licensed Cosmetologist and local beauty legend whose experience and expertise spans the globe. She's featured in top beauty and fashion magazines, newspapers, magazines, and TV programs. Katrina's won Boston Magazine's "Best of Boston Makeup Artist" 5 times, and Allure Magazine's "Best of Best Brow Shaping" twice. At her Newbury Street salon Katrina offers unique products that are organic to high-end. Katrina volunteered for 15+ years for the American Cancer Society's"Look Good…Feel Better" program. www.katrinahess.com