We published the following post last year and we're publishing it again not because I'm lazy (I am) but because I want to talk about my Dad and share a memory of another Dad with you.
The first Father's Day without Dad, a neighbor who was a doting Dad to two daughters, and who quietly looked out for me, walked over to our yard and sat next to me. That was it, he just sat with me for a while. It meant so much. And that Dad, whose name was Peter, died this year much too young, and I know his girls miss him.
If you still have your Dad, I'm so happy for you. If you don't, I'm sending you a hug.
XO Brenda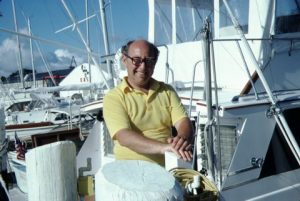 My Dad, who died in 2002 at 74 – an age that gets younger every year – taught me a lot of things about how to be in the world, both by example and by making occasional pronouncements, or edicts as I used to call them.
Arthur Edward Nashawaty was the youngest boy in a family of 9 children. His father sold fruit and vegetables from a stall in Haymarket Square, and I think Dad got his love of all kinds of food from going with him. Both his parents died very young. He missed them for the rest of his life.
Dad knew what he wanted. From a young age he decided he was going to be successful, and he mostly was. I think his brothers admired their little brother's fierce ambition. His sisters doted on him; he was their "Artie."
At a church event in his 20s he saw a beautiful girl named Carolyn from an elegant family and decided she was it. They were together until he died.
After looking around for a career that would let him be his own boss, he became a manufacturers' representative, selling massive amounts of furniture and other goods to hotels, schools, restaurants, etc. throughout New England. He and a pal invented the first lamp that had a socket for hotel guests to plug in a laptop back when laptops were new.
So far, he remains the only person of Near Eastern descent elected Captain of the Ancient and Honorable Artillery Company of Massachusetts, formed before the Revolutionary War.
He became a somewhat-skilled yachtsman, cruising to Nantucket and Martha's Vineyard from Falmouth Harbor every summer. Mainly by following the ferries, unless he could get my brother to navigate.
Dad enjoyed the theater, especially Shakespeare. I only saw Dad cry a few times in my life, but when we saw a tragedy like Othello, he let the tears flow.
He and our mother raised 3 of us, gave us everything we wanted except a pony (riding lessons, yes; pony, no), and we knew he loved us.
Some "Dad-isms" that have stayed with me…
"Don't ever brag about what you have. There will always be someone who has less than you, and you don't want to make them feel bad. And there will always be someone who has more than you, and you don't want to make yourself look foolish."
"I don't care about what everyone else is wearing. You're not leaving this house in that mini skirt. Carolyn, did you see what your daughter is wearing?" (I wore the skirt.)
"Don't be in a rush to accept every invitation. If you're invited to 3 parties, go to 1. You want people to look forward to seeing you."
"If I had a dollar in my pocket, I'd get a shoeshine for 50 cents and give the other 50 cents to a hobo."
"Always make extra so people can bring some home."
"Honeybunch, you're going to see the same people on the way down as you saw on the way up."
And so on.
Dad was one of nature's gentlemen. He was fair, but tough. He demanded, and commanded, respect. His office was in our house, and my brother told me one day he heard Dad yell on the phone, "Look fella, I need the business, but I don't need it that much!"
And he probably was the most stubborn person I've ever known, which taught me skills I later used in my PR career.
He doted on children and let more than a few break his glasses. If a child said they wanted a particular toy, his response was: "Carolyn, find out what that is and buy two."
He loved family parties, but only if he was hosting. We have a video of my late aunt at a surprise party her children gave for her, and over the din of voices you can hear her exclaim, "Oh my God, Arthur's here?!?"
Dad was a walking manual of how to live on your own terms. I think of him often, with gratitude, with wonder at all he did and was, with many "you were rights," and with love.