By Contributing Editor for Hearth & Home Deborah Carducci
Should I decorate my house for the holidays? I have been asked this question several times in the last few weeks while on Zoom calls with clients. Truth be told, I questioned it myself.
The answer: a resounding yes!!!
A big part of my decorating philosophy has always been to decorate for yourself. Why should this year be any different? Why should this season be any different? Most of us find joy by simply gazing at the holiday lights that make us nostalgic for the magic of our childhood.
As I began the annual sorting of my own holiday decorations, I realized that I had no interest in my "traditional" ornaments this year. With a swift search online, I quickly came up with a new "theme" for my Christmas tree – blue and white porcelain (a nod to my growing collection). So, even before December 1, my tree was up and dressed, donning its regal navy blue velvet ribbons, white feathers, pearls (always appropriate for any season) and lovely blue and white mini porcelain adornments with some crystal accents sprinkled in for extra shine.
Designer Tip: After stringing the lights on your tree, step back at least five to six feet and squint. This simple trick will reveal if you have any lighting bare spots.
Christmas decor doesn't have to be exclusive to red and green. There are so many options available now making it easy to blend with your current room decor. If you are unsure of changing up colors, look to jewel tones as they usually are deeper versions of your existing color scheme.
And so, I offer you these simple tips…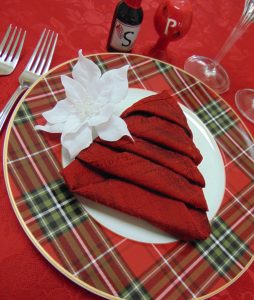 Table Settings – Be creative and have fun. I love the look of layered table design. After you place your dishes, flatware and glasses, have a little fun with a creative napkin fold.
Designer Tip: Add flower picks or small ornaments to make your table more festive. If you collect fun salt and pepper sets, place one at each setting.
Mantles – For a simple, yet elegant look, drape fresh greenery across your mantel. Add a strand or two of battery operated LED dome lights for a soft glow intermingled within the garland. Use mini clips (silver or gold binder clips work well) to fasten your holiday photo cards. For an even more personal touch, you can use mini-frames for small photos of your family members to hang from the garland. These also can be removed and used as fun place cards at your dinner table. Accent with small decorative bulbs in varying sizes or pop in a few floral picks (white work best).
Designer Tip: If you use a combination of white, silver and/or gold, you can extend your mantle look well into January, as it has a more "winter" ambience.
Buffets – These can be tricky as the tops are important real estate when entertaining. Poinsettias, Amaryllis and Paper Whites are all festive as well as maintenance free. If you are looking for a pet-friendly alternative (as I always am), consider a Christmas cactus or Achira which is similar to Amaryllis but safe for dogs and cats. Use one of the above floral choices as a focal point for your grouping. A simple ribbon or raffia tied around the pot will dress it up nicely. Fill one or two clear glass vases with metallic ornaments for instant sparkle. Use different shape and size vases you may already have. Small sprigs of evergreen placed around will ground everything. Enhance with finishing touches of mercury glass votive candles or tea lights.
Designer Tip: If you arrange this vignette on a tray, it will be easier to move when you need to use the surface, and it can quickly dress up another area.
Centerpiece – For something organically unique, place your favorite greenery garland along the center of your dining table. Add a fresh adornment by stringing dried citrus slices with nylon or twine. Pop in a few pine cones (scented would be heavenly) and you've brought the outdoors inside!
Designer Tip: Be sure you allow ample time for the citrus slices to dry before stringing. Add jingle bells to the center tied with a pretty ribbon (plaid is always fun, black and white is classic) and your table is ready!
Give yourself permission to try something new and imaginative this season by thinking out of the box. Who knows, you may even find a new tradition!
Wishing you a happy and healthy holiday season.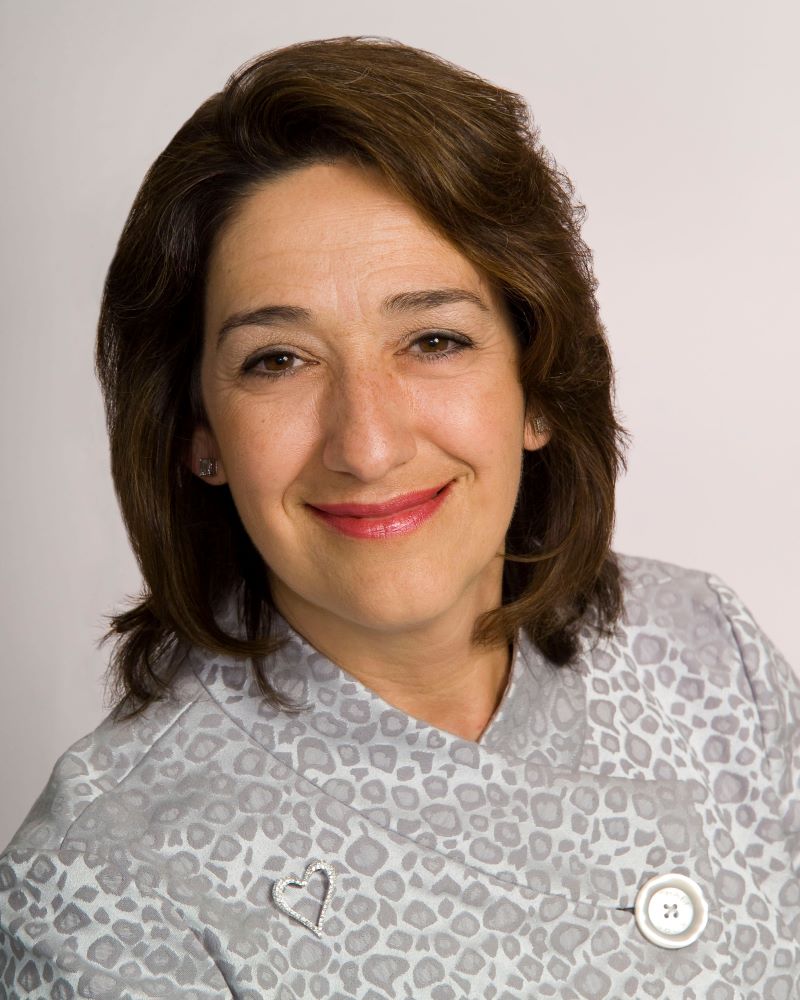 Interior Designer Deborah Carducci has spent over 20 years transforming primary and secondary residences and commercial office space throughout New England. Deborah says "good design starts with a great conversation." She guides clients through the creative process from the initial consultation through design and installation. Her love of textiles, the influence of color, and creative design allow her to present a unique interior and experience for each client. Deborah also created Villa Lusso, a luxury brand of Italian inspired scented soy candles available through boutiques and her Etsy shop. Deborah recently published her first book (under her nom de plume, Angelina DiVersa), "It's a Pillow, Not a Kidney" about an eager-to-please designer and her drama/comedy filled interior design business. Learn more at www.carduccidesigngroup.com and www.itsapillownotakidney.com