Editor's Note: We're thrilled Katrina is offering complimentary, 20-minute Zoom consultations to help us find our best skincare and makeup this month! Email Katrina at [email protected] for details.
By Contributing Beauty Editor Katrina Hess
Nothing is more beautiful than a warm, happy face, especially during the holidays! Clear skin, a hydrated complexion, healthy lips, exfoliated polished skin, clear eyes, groomed brows, and the perfect lip color – you can do it!
Daytime
Use a serum to tighten pores and tone skin. Let your skin absorb it for a few minutes and then apply a hydrating, oil-free moisturizer to keep your pores clean and tight during the day. And, apply lip balm as often as you can.
Use a light exfoliant 3-4 times a week on your face and lips. Keep it in the shower as a reminder!
Nighttime
Apply your most hydrating moisturizer or face oil every night.
Anytime
Eye cream is the key – AM, PM, anytime!!! There are so many on the market to choose from. Use a heavier eye cream at night on your eyelids and around your eye. I like to use a light "gel" eye cream/treatment during the day.
If you apply makeup such as concealer under your eye, tap a small amount of eye cream over the makeup to refresh the skin, reduce under-eye puffiness, and add hydration to that delicate area.
Tip: keep your eye cream in the fridge to refresh and help puffiness (remember my cucumber tip from my home remedies post?).
Makeup
Use a tinted moisturizer, or mix equal amounts of your daytime moisturizer and your foundation to create a glowing look. 
Highlight around your eyes with a lighter color tint or concealer.
Brush your brows and fill them in if necessary, and finish with a clear brow gel or a light hair gel for a polished look.
Apply a creamy, natural blush high on your cheekbones, and add a dab of blush in the middle of your eyelid for light and lift.
Curl your lashes, and then apply mascara. (Most mascaras only last for 3 to 6 months. Check yours to see if you need to replace it.)
Don't be afraid of color on your lips! Most of us gravitate to the color we feel best in, but the holidays are a great time to play with color. Dig out your lipsticks, glosses, etc. and get creative! Try mixing colors!!! For example, take a summer color and mix it with one of your every day or evening colors. Experiment to find the right lip color (this season, orange is the new red). Whether you wear a light or bright color, make it "pop." Light colors look great with a gloss applied to the middle of your lower lip. If you're wearing bright colors, make sure you exfoliate your lips – they need to be smooth to carry it off!
Enjoy!  -Katrina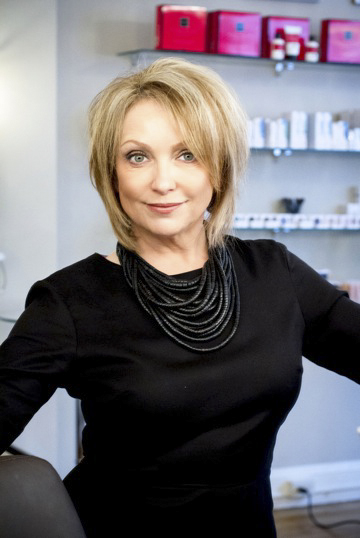 Katrina Hess is a licensed Cosmetologist and local beauty legend whose experience and expertise spans the globe. She's featured in top beauty and fashion magazines, newspapers, magazines, and TV programs. Katrina's won Boston Magazine's "Best of Boston Makeup Artist" 5 times, and Allure Magazine's "Best of Best Brow Shaping" twice. At her Newbury Street salon Katrina offers unique products that are organic to high-end. Katrina volunteered for 15+ years for the American Cancer Society's "Look Good…Feel Better" program. www.katrinahess.com