By Contributing Beauty & Skincare Editor Katrina Hess
Summer is the perfect season to have play with your lip looks.
Whether you're going for the just-bitten look, a stain that looks like you just ate a raspberry or cherry Popsicle, or big, bold color – it's fun to experiment to find colors that work best with your skin tone…
Summer Lips Tips & Looks
Start with exfoliated hydrated lips. You can read my tips and techniques for do-it-yourself natural lips scrubs and balms and summer skincare here.
Always protect your lips from the sun. It's very important to re-apply SPF when you're out and about on the golf course, the beach, relaxing at the pool, or just walking outdoors.
Lips stains are great because they're long wearing, and they give you a natural look. They hold up well and don't come off on your mask.
High shine lip glosses are great! I like just a crystal clear gloss alone, or over a stain. (I LOVE Ellis Faas L309 – it's clear and shiny.) Many glosses have SFP, and many lip protectants have color. A good example is Dr. Kaplan's Perfect Pout SPF lip line which works is treatment and color, and it's also cruelty free.
I'm super excited about Glossier's new Ultrilip, a new lip care/color line that's clean, cruelty-free and reasonably priced. These sheer colors are perfect for summer! You get the moisture of a balm, the sheerness of a gloss, and you can build up the color – all in one product. Check it out at glossier.com.
And to go with my clients' summer lip looks, this year I'll be doing light, airy pastel tones on the eyes – with well-defined liner, and of course, lots of lashes. 
Have fun!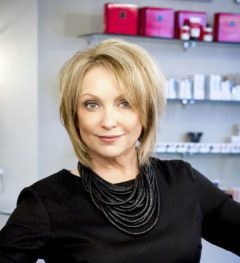 Katrina Hess is a licensed Cosmetologist, which is rare among makeup artists. She's a local beauty legend whose experience and expertise spans the globe. Katrina has been featured in top beauty and fashion magazines, newspapers, magazines, and TV programs. Katrina's won Boston Magazine's "Best of Boston Makeup Artist" 5 times, and Allure Magazine's "Best of Best Brow Shaping" twice. At her Newbury Street salon Katrina offers unique products that are organic to high-end. Katrina volunteered for 15+ years for the American Cancer Society's "Look Good…Feel Better" program. See how Katrina can help you maintain healthy skin and learn easy beauty routines, and much more, at www.katrinahess.com