By Deborah J Carducci, Editor for Hearth and Home
(This is the second in a 3-part series Deborah is writing about home renovation. You can see her first post here!)
Getting ready for a home remodel is as exciting as accepting a new job or driving your brand-new car off the lot for the first time. The excitement of possibility is undeniably the best feeling in the world. I love joking with clients once they sign the contract and have a project commencement date, they never have to clean again! What could be better?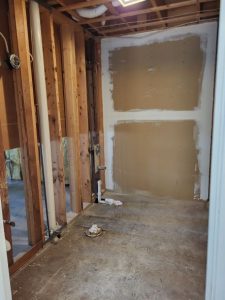 Your mission now is to get your home ready for renovation before that fast approaching start date. It's never too early to begin the packing process. You will come across things you didn't even realize you had. It's entirely possible you may not even know their use in the case of a kitchen renovation. If you can take time to carefully sort through everything before it's boxed up, you will have a much easier unpacking process. If you come across items that you have had for years and have never used or only used once, it's time to donate! Don't pack up old linens and towels – donate or discard – depending on their life cycle and your town's rules. Now is the time to treat yourself to some new colors and/or styles to reflect your new design.
What comes next? Waiting, and waiting and possibly more waiting.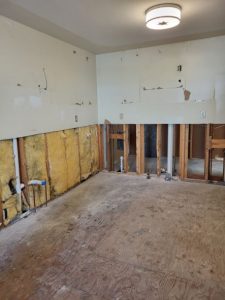 Start dates are arbitrary and will be "adjusted" according to your contractor's availability. Don't be surprised if they postpone a bit while finishing up the previous project. When demo day finally arrives, it all becomes real with a swipe of a hammer. This is the exciting part you've been waiting for since you fully committed. Everyone is happy. Keep in mind that issues or flaws may be discovered in this part of the process, but they will be addressed quickly in order to move forward.
What comes next? Waiting, and waiting and probably more waiting.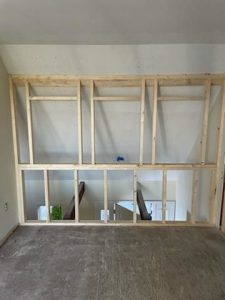 This is called the Black Hole of Reno. Once the demo is completed, there are many things that go on behind the scenes which you generally don't hear about. Rough plumbing and electrical has to be scheduled and if you have ever worked with these two trades, their schedules change from day to day and are very hard to pin down. This work has to be done and inspected before any framing and walls can be put back. This is a slow and painful process for the homeowner as well as true lesson in tolerance. And just when you think you are at your wit's end, it miraculously gets done and the project moves to the next phase. Every time!
Have patience. Take a deep breath. The really fun part is about to begin!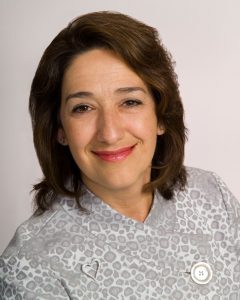 As an Interior Designer, Deborah has devoted over 25 years to transforming primary and secondary residences and commercial office space throughout New England. Deborah says "good design starts with a great conversation." She guides clients through the creative process from the initial consultation through design and installation. Her love of textiles, the influence of color, and creative design allow her to present a unique interior and experience for each client. Deborah also created Villa Lusso, a luxury brand of Italian inspired scented soy candles available through boutiques and her Etsy shop. In 2020 Deborah published her first book (under her nom de plume, Angelina DiVersa), "It's a Pillow, Not a Kidney" about an eager-to-please designer and her drama/comedy filled interior design business. It's a funny, informative book for anyone who ever had to or wants to decorate any space – meaning all of us. Learn more about Deborah by visiting www.carduccidesigngroup.com