In addition to hosting history's most famous tea party, Boston Harbor is one of the Northeast's most important shipping areas. It's home to dozens of islands, and it's a beautiful place to enjoy fresh, salt air and a view of the city and islands.
And now we can be our own "captains" and cruise the harbor on electric boats, thanks to Boston Electric Boats, an electric boat rental company located at the India Wharf Marina in Boston. Boston Electric Boats founder Patrick Rourke says their mission is to increase the accessibility and convenience of a private boat cruise on Boston Harbor for people who live in, work in or visit the greater Boston area.
In addition to offering a fun way to have a day out on the water, Boston Electric Boats also helps keep Boston Harbor clean and accessible. The company supports Boston Harbor Now, an organization that works to increase the quality, destination value and awareness of the Harbor and its importance to the area's environmental, social and economic health.
We were happy to catch up with owner Patrick Rourke…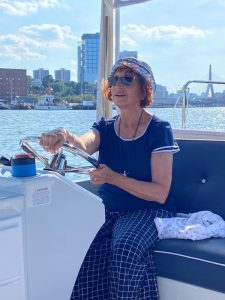 Patrick, what a great idea!
We think so!
My vision for Boston Electric Boats is to make a private boating experience on the waters of Boston more accessible to the people of Boston and the surrounding areas.
Our "Be Your Own Captain Rental" lets you take the helm and cruise the harbor. You don't need a boating license, and because the boats go at a top speed of 6 miles per hour they are easy to pilot.
We're focused on providing a clean, safe environment so customers can be confident and comfortable during their visit.
How many people can you take out on one of your electric boats?
The boats have space for up to 12 passengers.
The design is an open air concept with plenty of seating. You have all of the side enclosure windows up. The design also allows you to close those windows to keep the main cabin protected by wind or cooler air. The canopy covers most of the boat, but there is an aft deck area with a bench seat that allows for some amazing views, group photos, and full sun when the sun is out.  
Customers can bring their own food and drinks, or you can order a charcuterie board when you book. You also can order food from one of the dockside restaurants along the route.  
We see you use only Duffy Electric Boats.
Duffy Electric Boats is a boat manufacturer based in California. The company has been the world leader in the electric boat industry since 1970.  A Duffy isn't about going fast – it's about spending time with your friends and family in a comfortable lounge-like environment while you cruise.
Spring/summer bookings are now available at www.electricboatsboston.com. The season runs from May 15 to mid-October.
Boston Electric Boats
India Wharf Marina, Boston
www.electricboatsboston.com
[email protected]
617.981.5684