By Contributing Beauty & Skincare Editor Katrina Hess
Until recently good, organic sunscreen was hard to find. We all have our criteria for what we want in a product –ingredients, SPF, scent, texture, weight, price, convenience to buy, etc.
Luckily in the past few years several companies have introduce clean, healthy new formulations that protect our skin and work well on their own or under makeup. Here are three of my top picks, which are all certified cruelty free!
Cream Organic Face Sunscreen SPF 50 – In addition to SPF50 protection, this product's ingredients help protect your skin from the effects of High Energy Visible light from phones and tablets, infrared light, and pollution.
Classic Body Organic SPF 50 Sunscreen Spray – This unscented spray is easy to apply all over your body. It lasts through long, active days outdoors, with water-resistant broad spectrum UVA/UVB protection.
Mineral Liplux® Organic Tinted Lip Balm Sunscreen SPF 30 – A great way to smooth and protect your lips with ingredients including organic cupuaçu butter and mongongo oil.
Sun Defense Mineral Oil-Free Sunscreen Face – I love this oil-free sunscreen, which is SPF30. It's super matte and fragrance free. It's great for sports.
SkinBiotics SOS Cream – This cream is a great treatment if you've gotten a little too much sun. Tea Tea Oil and Oregano to help calm and comfort irritated skin.
Hydro Grip Primer – While this product doesn't contain SPF, it's fabulous for holding SPF creams onto your skin, and it keeps your makeup styling in place for up to 12 hours! 
Sunshine Skin Tint Broad Spectrum SPF 30 Sunscreen – This silicone-free skin tint gives you weightless coverage and moisturizes, with coral reef-safe broad spectrum protection.
Tips 
Remember, your lips are part of your skincare regime. It's very important to use a product with SPF to prevent brown spots and fading. 
Don't depend on just your makeup for sun protection. Any makeup with SPF is just an added bonus. Use your sunscreen ALL over your face, ears, neck etc.
Reapply your sunscreen through the day. This is VERY important if you're going to be in the sun for a long time.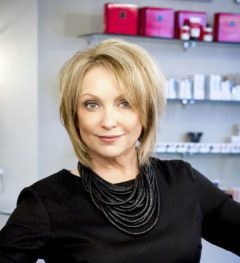 Boston-based Katrina Hess is a licensed Cosmetologist and local beauty legend whose experience and expertise spans the globe. She's featured in top beauty and fashion magazines, newspapers, magazines, and TV programs. Katrina's won Boston Magazine's "Best of Boston Makeup Artist" 5 times, and Allure Magazine's "Best of Best Brow Shaping" twice. At her Newbury Street salon Katrina offers unique products that are organic to high-end. Katrina volunteered for 15+ years for the American Cancer Society's "Look Good…Feel Better" program. www.katrinahess.com