By Contributing Editor for Hearth & Home Deborah Carducci
Editor's Note: Visit Deborah's new website! www.carduccidesigngroup.com
Have you been contemplating a bath remodel for your home? Are you aware of new products combining luxury and safety? With careful planning, quality products and construction, your well-designed bath can age as gracefully as you!
When working with clients who are entering "the third quarter," it is most important to plan for any physical issues that may happen so they can stay comfortably in their homes. Well-being and convenience are key factors when designing any bathroom, but particularly for the over 60 age group. But there is no reason you can't have luxury too!
These steps will guide you through the process of choosing the right products for your needs and design desires…
1. Vanities – a counter-height vanity (34" before the top) is key to keeping your back and neck in good health by avoiding bending over a lower vanity for daily tasks. A cabinet with drawers is more accessible for toiletries, hair dryers and dental products than having to kneel to find items under the sink. Full extension drawer glides with a soft close feature will provide easy access for everything right at your fingertips and keeping things organized.

2. Toilets – when choosing a new toilet, take a look at the comfort height options (ADA compliant) with seat height of 17-19". Toilet brands have continued to expand their luxury and safety features. TOTO has combined all-in-one toilet and bidet with remote controlled front and rear warm water washing, along with a heated, temperature-controlled seat. An automatic open and close lid makes this compact, elongated design the best kept secret in your bathroom. Other manufacturers offer similar features to this product, and with a little extra research you will find the perfect one to suit your needs.

3. Faucets & Fixtures – aside from style and finish, functionality is always a key factor when shopping for faucets and fixtures. When choosing for your vanity, consider a faucet with a high arc and widespread levers for easy operation and cleaning. (Levers are easier for arthritic hands and the widespread products – 8" of space give you more room to operate.) Touchless faucets are wonderful and can be controlled by voice, app, hands free or manual, giving you total control should you have changing needs.

4. Shower Heads – rain heads ranging from 8-12" in diameter are still popular, with multi-function settings offering you a choice for full coverage, pulsating massage or a silky spray. I like to recommend a hand-held shower in addition to a fixed head (also good for rinsing your tile as well). If you are planning a smaller shower stall, there are combination products from Moen or Delta providing you with a two-in-one function of a removable spray that magnetically attaches to the center of the fixed shower head.
5. Shower Stalls – stalls are in, bathtubs are out (for the most part). Many bath remodels are now opting out of tubs and installing generous tiled showers, allowing for more room with built-in, tiled benches. If you are limited in space, fold up teak shower seats fastened to the wall are lovely and function very well, as they lift up against the wall when not in use. Your shower floor can either be tiled or a solid base. If you are tiling and looking for something other than a center drain, your contractor can install a trench drain along the edge, allowing you to eliminate the shower curb and central pitch.

6. Safety Grab Bars – for full protection, grab bars should be installed in the shower stall, on the wall as you enter the shower, and next to the toilet. They are absolutely essential in the shower. I can't tell you how many times clients hesitated to install them but did, and then were happy as they are convenient – especially for washing feet! Most of the plumbing fixture collections carry matching grab bars in various sizes to complete your design. A few well-placed grab bars will go a long way. And if you are still resisting them, have your contractor install wood blocking before tiling, take a photo of the placement and you'll be ready for installation if you need them. Remember, planning is everything in a bathroom!

7. Lighting – this is always key for any room but especially for bathrooms. A good combination of wall and ceiling lighting will keep your bathroom a bright space with many options. Sconces or bar lighting over your vanity will illuminate that area. Recessed lighting is great over a toilet as well as in the main bath area. Ventilation is a must even if you have a window in your bathroom. If you are looking for something different than the traditional and sometimes noisy fan/light in the center of the room, consider using a recessed light/ventilation combo. This unit will blend in with your other recessed lighting, giving you a dual function.
So where does one start?
As in any other room, I usually start with the largest piece. For bath design, that is the vanity and the shower tile. If you begin with one or both of those products, they will set the tone for the rest of the design elements. Selecting the shower wall tile is a priority, as that covers a lot of square footage. Most wall tiles have a coordinating shower floor tile – ideally 2×2" or 3×3" with a matte finish. Have fun choosing an accent tile to use as a stripe in your shower or in the background of a built-in niche to hold your hair products and soaps. Be creative, make it fun, or pretty, or luxurious! Keep in mind, if you choose neutral "permanent" items like tile and countertops, you can have lots of fun with different colored towels and accessories.
Finally, find a good contractor and get good advice. Professionals are happy to help you navigate the many products that are out there. Set a budget (you will go over a little bit!) and choose quality products that you will enjoy for years to come.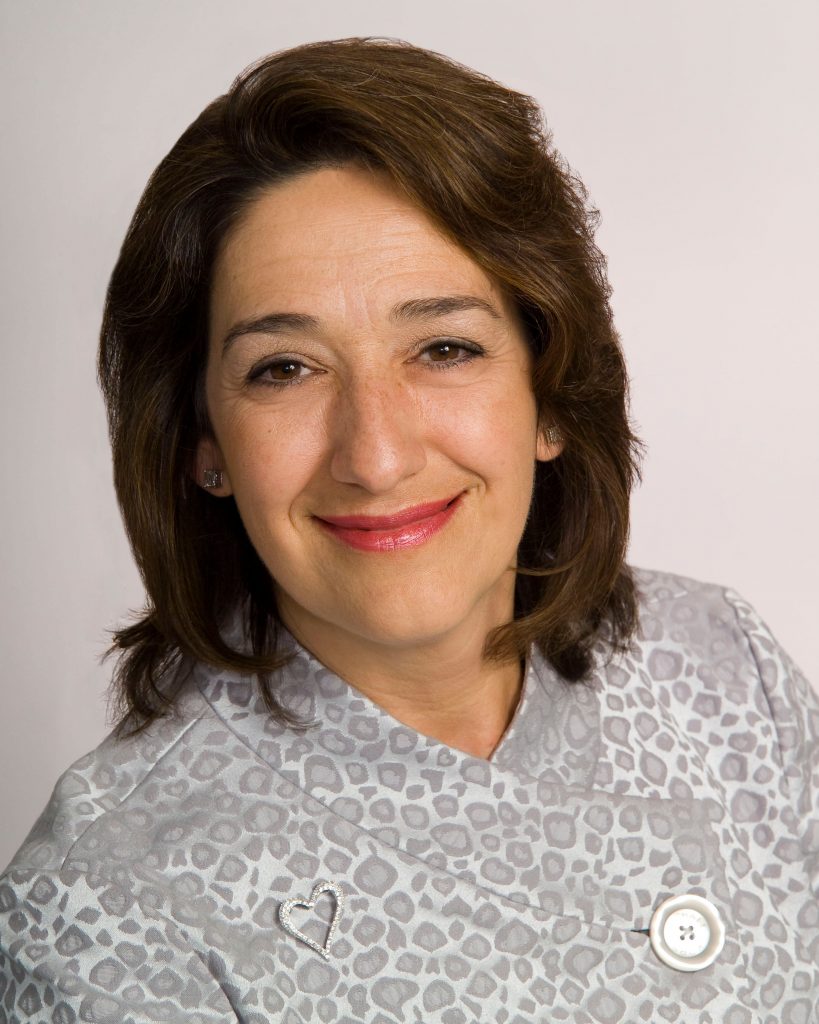 As an Interior Designer, Deborah has devoted over 25 years to transforming primary and secondary residences and commercial office space throughout New England. Deborah says "good design starts with a great conversation." She guides clients through the creative process from the initial consultation through design and installation. Her love of textiles, the influence of color, and creative design allow her to present a unique interior and experience for each client. Deborah also created Villa Lusso, a luxury brand of Italian inspired scented soy candles available through boutiques and her Etsy shop. In 2020 Deborah published her first book (under her nom de plume, Angelina DiVersa), "It's a Pillow, Not a Kidney" about an eager-to-please designer and her drama/comedy filled interior design business. It's a funny, informative book for anyone who ever had to or wants to decorate any space – meaning all of us. Learn more about Deborah at www.carduccidesigngroup.com