By Beauty & Skincare Editor Katrina Hess
Now that summer is here, it's time to show the world fresh, glowing skin.
Creating that glow starts with good, basic skincare. You can use a gentle face scrub 3 or 4 times a week to remove product buildup and dead skin cells that trap oil and dull your skin.
It's easy to do! Here are my favorite, cruelty free products. Let's get glowing!
Dermalogica – I like their Daily Microfoliant Exfoliator. It's a rice-based powder that releases Papain, Salicylic Acid and Rice Enzymes – all great for polishing your skin. It also contains Phytic Acid from Rice Bran, White Tea and Licorice to balance uneven skin tones. And it's so gentle, you can use it every day. And it even comes in a travel size so you can pack it for your vacation!
Tatcha – Their The Rice Polish: Gentle Foaming Enzyme Powder is a water-activated exfoliant that contains Japanese rice bran and licorice root extract that gives you smooth, and glowing skin. It also comes in a convenient travel size you can toss into your makeup kit.
VMV Hypoallergenics – I especially like this product line because they have 4 types of products for 4 skin tones. If you have combination skin – and many of us do – you can mix and match products.  My faves from this line…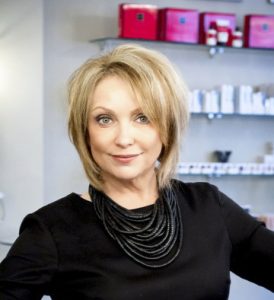 Katrina Hess is a licensed Cosmetologist, which is rare among makeup artists. She's a local beauty legend whose experience and expertise spans the globe. Katrina has been featured in top beauty and fashion magazines, newspapers, magazines, and TV programs. Katrina's won Boston Magazine's "Best of Boston Makeup Artist" 5 times, and Allure Magazine's "Best of Best Brow Shaping" twice. At her Newbury Street salon Katrina offers unique products that are organic to high-end. Katrina volunteered for 15+ years for the American Cancer Society's "Look Good…Feel Better" program. See how Katrina can help you maintain healthy skin and learn easy beauty routines, and much more, at www.katrinahess.com