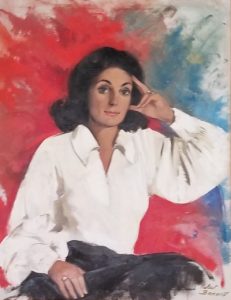 This beauty is Carolyn Ede Nashawaty, my mother. She's as alluring as Cleopatra, elegant as Audrey Hepburn, stylish as Lee Radziwill, naturally modest, a little mischievous, dignified without being snooty, genuinely kind, generous, insightful, one of the smartest and wisest people you could meet, and one of the funniest people ever. Example: when she sat for this portrait, Mum toyed with the idea of asking the artist to paint her dripping in huge diamonds, so if she died our father's second wife would go crazy looking for them.
Mum was born in Dorchester, the youngest of six siblings and parents who doted on her. Her surviving brother still does. She had an idyllic childhood, playing with school and neighborhood girls, watching her parents entertain local and international dignitaries, taking the trolley to Filene's and Jordan Marsh with her mother and older sisters.
She met a handsome, ambitious, blue-eyed young man when she was 19, and that was that. Mum gave birth to three of us, raised us in West Roxbury, made a safe and secure home for us, and with Dad gave my brothers and me fine educations and everything we wanted except ponies.
Mum has always been creative and artistic. She can paint and draw anything. She's taken classes at the Museum of Fine Arts and always been interested in all kinds of art and artists. She's designed and sewn most curtains in our houses. She sewed fabulous evening wear for my Barbie dolls, and beautiful things for me to wear, too.
Mum has always drawn people to her – but gossips, troublemakers, and people who are disloyal to other people need not apply.
At the age of 89, Mum will text me to ask if I need anything while she's out doing errands – on days when I won't go out because it's too cold or rainy. 
If you ask Mum a question she doesn't want to answer, she acts like she didn't hear you, so she can prepare her answer while you're asking the question again. It's a good tactic and it makes me laugh every time. Try it yourself. It works until people catch on.
There can be "nothing to eat" in the house, but up in the attic where I live with the rest of the bats, incredible aromas waft up from the kitchen, and when I go downstairs it looks like a five-star chef stopped by.
Mum lost her husband, my Dad, when she was in her early 60s. She kept going, volunteering at Faulkner Hospital to give a smile and support to people checking in. Someone who volunteered with Mum told me more than a few of the doctors who weren't big on smiling always made a point to stop by the reception desk and say a smiling "good morning" to Mum.
And Mum had the worst thing happen to her that any mother can. She lost her son, my brother Brian, to cancer a few days after Mother's Day three years ago. But Mum keeps going, even when she doesn't really want to, as a way to honor him. And she knows my brother and I need her around.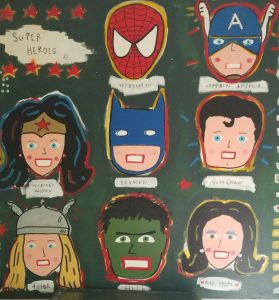 This painting Brian made says it all. The titles might be a little fuzzy in this photo, but there's Mum, lower right, among the Superheroes.
Mothers, Godmothers, grandmothers, special Aunties, or anyone who makes a child feel safe and loved – a very happy Mother's Day to you.
XO Brenda