By Contributing Editor for Beauty & Skincare Katrina Hess
Just because we're wearing masks to help prevent the spread of Covid-19 doesn't mean we can't still take care of our skin.
In fact, it's especially important to create a simple but effective regimen to counteract the effects of covering our faces. Wearing masks and heading into the warming weather can cause enlarged pores that get clogged and create blackheads.
Here are my "Masked Beauty Do's and Don'ts"
DO
1. Use a deep cleanser that's not drying to remove the buildup of oil that causes blackheads and congestion around your nose, lips and chin.
2. Use a gentle exfoliant every few days to brighten your skin and remove oil buildup.
3. Use an oil-free moisturizer during the day, and a heavier skin cream at night. I like the nighttime skin quencher from Olga Lorencin.
4. To keep skin looking smooth and fresh during mask use – or any other time – use a loose or pressed powder that's translucent or lightly tinted. It also adds a layer between the mask, which can be rough textured, and your skin. The lightweight powders from Ellis Faas are excellent, and they stay put all day.
5. Use a lip stain under a mask. Lips need to be exfoliated when using stains – chapped lips and stain don't mix!
DON'T

1. Don't use a heavy foundation and moisturizer – it will clog your pores.
2. Don't use lip gloss or sheer lipstick – it will rub off on the mask and it could smudge and lead to breakouts around your mouth.
And since only our eyes and brows show when we're masked, why not make the most of them?
You want a brightening effect for your eyes. Use an under eye concealer, a neutral eyeshadow, and maybe a light eyeliner. Hourglass Cosmetics has a nice base that makes eyeshadow and liner stay put all day. You also can experiment with colored mascaras. For example, try blue mascara for blue eyes, green for green or brown eyes, brown if you have fair skin and light hair. And of course black is good for almost everyone.
If you follow this routine you'll also have a fresh look not just for when you're a masked beauty outside your home, but for when you do home video conferences as well.
For May, Katrina is offering 20% off Ellis Faas purchases of $50 and more. Ellis Faas also has a promotion now that if you buy one lipstick you get another one free – a perfect pick-me-up to send a fellow stay-at-home friend during Covid-19. You can find out more at www.katrinahess.com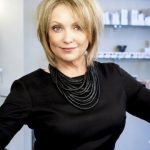 Contributing Editor Katrina Hess is a licensed Cosmetologist and local beauty legend. Katrina's experience and expertise spans the globe. She's been featured in top beauty and fashion magazines as well as many newspapers, magazines and TV programs. Katrina's won Boston Magazine's "Best of Boston Makeup Artist" five times, and Allure Magazine's "Best of Best Brow Shaping" twice. Katrina also volunteers for the American Cancer Society's "Look Good…Feel Better" program that helps women cope with the appearance side effects of cancer treatment.