We were delighted to meet Massachusetts-based author Barbie Burr and ask her about her new book, Libidinous Venture.
Barbie is a pilgrim, studying the limits of Earth and its portals to the heavens in her garden, her boat, her kitchen and usually with her dearly beloved family. Born in La Jolla, California, reared in a Navy family, and educated at Holy Family High School, she studied at Massachusetts Maritime Academy, and now lives along the shores of Buzzards Bay in Marion, Massachusetts…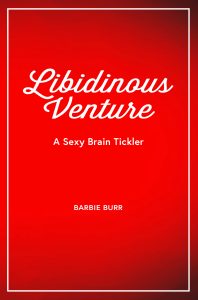 Barbie, what is Libidinous Venture about?
The book is about two people wrestling to understand life on Planet Earth: our history, our sexuality, and why people do what they do. I say wrestling, because the book reads like a verbal wrestling match. It is mostly conversation about the human mysteries and dilemmas that give us all trouble. 
It's set in Boston, St. Croix, and Salem, three of my favorite places. He's orderly, a guy appearing to have everything, great looking, smart, educated, careful, and alone, as people without needs can find themselves. She is a hot mess, ready to jump into a mosh pit. Very experiential. We meet her as a freshman, desperate to get away from college life. She plans to pay for a gap year by selling her virginity on Craig's List. Her friends step in to save her, and our two heroes meet on a Caribbean beach.
Why did you decide to write it?
I love to read books about writing. Bird by Bird by Anne Lamott suggests a writing exercise where you conjure a couple of characters you find interesting, put them in a setting you like, and then listen to what they say. I tried that, and just kept writing down what I was hearing. The pages flew by. I laughed. I cried. I stuck with it because I wanted to hear more, and travel more. I really love Henry and Teresa. My highest hope is that the book finds an audience, and people clamor for more. If so, I would like to travel to Mt. Koressos in Turkey, to the House of the Virgin Mary. Femininity, motherhood, and the Virgin Mary are topics I would like to hear my heroes discuss.
What do you hope readers will come away with?
This book is sheer entertainment.  It's a bag of potato chips, a fast-paced page turner. One reader told me the book helped her love at a higher level, which was amazing to hear. But I think what really happens is that we move through this life not understanding a lot of what is going on. When we listen to Henry and Teresa wrestle to put words on hard-to-understand experiences, sometimes we get a pop of clarity. I am at a stage in my life where I have fought long and hard for clarity. If some of that is shared with my readers, I am tickled.  
You can buy Libidinous Venture here: http://omni-pub.com/product/libidinous-venture/