By Arts & Culture Editor Joan Kirschner
In literature and history, we have our choice of books focused on American women of the nineteenth and twentieth centuries. From the classics of Louisa May Alcott and Edith Wharton to recent historical fiction by popular authors including Jennifer Chiaverini, Kristin Hannah, Anita Diamant, and Alice Hoffman, there are a multitude of titles, but Pre-Colonial and Colonial women are often overlooked, versus the many chronicles featuring the Founding Fathers. Women's roles, and lives, get nothing like equal time, because the legal and social structure limited their influence, often making them footnotes to history. There were, of course, no female signers of the Declaration of Independence, and in the seventeenth and eighteenth centuries (and with women's rights curtailed into the late twentieth century and beyond) no married woman could own anything in her own name – she was, essentially, the property of her husband, and prior to that an obligation of her father's.
A few women of note, such as Abigail Adams, Dolley Madison, and Sally Hemings, have received elevated attention, but their male counterparts (John Adams, James Madison, and Thomas Jefferson) eclipse them in fame and influence in history and general knowledge.
However, some authors have recently focused on the women of those early days in America, and produced notable books with both real-life and fictional characters who represent the era.
Fiction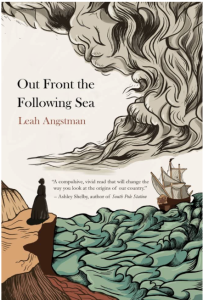 Out Front the Following Sea by Leah Angstman was a nominee for the 2023 Mark Twain American Voice in Literature Award. Having read and reviewed this book for the competition, it inspired my interest in this period. Set primarily in Stonington, CT, in 1689, during King William's War (the Protestant British versus the Catholic French and their Native American allies) it is the story of the fictional Ruth Miner, a brilliant young Englishwoman falsely accused of witchcraft and murder.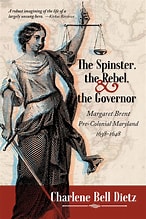 The Spinster, the Rebel, & the Governor by Charlene Bell Dietz is a fascinating novelized account of ten years in the remarkable life of Margaret Brent, who immigrated to the colony of St. Mary's City, Maryland in 1638. Brent left England to escape the persecution and repression of Catholics (and Puritans) that arose after Henry the VIII abolished the Pope's authority and made himself head of the Church of England. Brent, well-educated and strong-willed, was able, with her sister, to become a landowner in Maryland, so long as they remained single. Brent became a legal advocate and appeared as the attorney for the less fortunate in the colony. The Margaret Brent Award of the American Bar Association is named for her.
Non-Fiction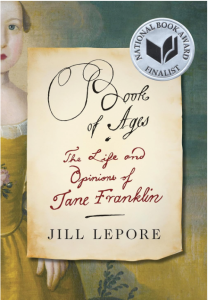 Book of Ages: The Life and Opinions of Jane Franklin by Jill Lepore. Jane Franklin was Benjamin Franklin's sister, six years younger. This very readable and interesting book offers insights not only into the two Franklins but into the Early American world they inhabited.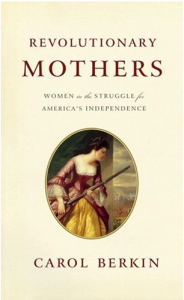 Revolutionary Mothers: Women in the Struggle for America's Independence by Carol Berkin takes the reader behind the scenes to meet American women who boycotted British goods, wrote political propaganda for the colonists' cause, and raised funds for the troops, among many other activities.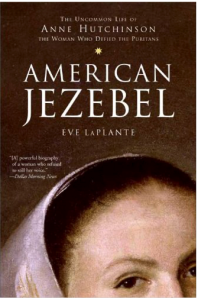 American Jezebel: The Uncommon Life of Anne Hutchinson by Eve LaPlante. Hutchinson was charged with heresy and sedition in a Massachusetts courtroom in 1637. Expelled from the colony, she moved to Rhode Island, where she founded a settlement that later merged with the Providence Plantation of Roger Williams. She was Nathaniel Hawthorne's model for Hester Prynne in The Scarlet Letter. She later resided in what became New York's Westchester County where the Hutchinson River Parkway is named for her.
Joan Kirschner is a Boston area writer/blogger who reviews books, museum exhibitions, theater, film, music, and travel experiences. Her commentary previously appeared on SonsiWoman.com, UllaPopken.com, WomenofGloucesterCounty.com, Trazzler.com, and IndieReader.com. She attributes a lifelong love of reading and cultural events to parents who encouraged her interests early on. Joan began as a retail and mail order catalog copywriter when typewriters, carbon paper, X-Acto knives, and hot glue were found in advertising offices everywhere. She advanced through the ranks and changes in technology, eventually taking on corporate communications, social media, and digital advertising and promotion. She managed and mentored younger writers, acquired skills in art direction, and had responsibility for print and digital communications reaching millions of customers. Surrounded by the babble of languages in Manhattan and Brooklyn and sympathizing with the challenges of non-English speakers, she earned a certificate in the Teaching of English as Second Language (TESOL) and began teaching and tutoring adults and college students. Joan now works part-time in grants administration, freelances occasionally, reviews books and the arts at No Shortage of Words and shares observations on the day-to-day at Musings at Random.