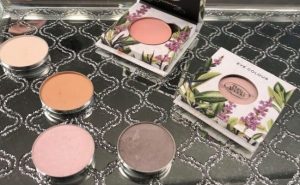 By Contributing Beauty and Skincare Editor Katrina Hess
(Katrina's studio is now open! Visit www.katrinahess.com to make an appointment.)

As high summer approaches, and as we continue to ZOOM co-workers, family and friends, it's time for us Masked Beauties to update our makeup routines.
Face
We all want that light, natural glow, and we also want to even out sun spots and redness from Rosacea and capillaries. I like an oil-free, tinted moisturizer for the face, and an oil-free matte concealer for flaws we want to diminish.
Don't just depend on the SPF in your tinted moisturizer or any other "cosmetic" face makeup for SPF protection! You need SPF all over your face, ears and neck –  areas where you don't want to use makeup. The makeup with SPF is just an added bonus.
Start with an SPF – all over!
Apply a face tint, staring in center of your face, working out
Apply concealer to desired areas
Set it all with a lightweight powder
Here are my "Faves"
Face Tints
Katrina Hess Sheer Mineral Tint, available in 4 shades.*
Kevyn Aucion Stripped Nude Skin Tint, available in 10 shades.
Laura Mercier Tinted Moisturizer Natural Perfector, available in 20 shades.
Concealer
Ellis Fass, available in 3 shades. (TIP – it's  hybrid, so you get a combination of heavier coverage and illumination, too.)
Powder
Kevyn Aucoin Loose Setting Powder comes in 1 shade, "Transplant," and it's the best!!! It's super silky and lightweight.
Brow Color
Use one shade lighter than your hair color. Use a pencil or a brow gel to make the color last in summer when we're in the heat and perspiring. I like brow gels because they multi-task: they add color and keep stray brow hairs put. (TIP – fill in gaps in your brows with the tip of the brow brush, but don't double dip. Just blend out and brush the color)
Fave
Damone Roberts Powders/Gels, available in 4 shades.
Eyes
I love a simple "wash" of color from the lash line to almost to the brow, leaving the skin under the brow natural.
(TIP – Light pinks brighten, corals/peaches warm.)
Fave

Pure Amanda Natural Cosmetics are so easy to blend, affordable, and come in beautiful summer colors!
Eyeliner
Look for an eyeliner that isn't too soft. A liquid will give you a dramatic look, but it can be tricky for some to apply.
Fave
Honestly, the best is Kevyn Aucoin, The Precision Eyeliner in black and dark brown. It's easy to apply – it glides on and it stays put.
Mascara and Lash Tinting
Waterproof mascara is great for the pool and beach, but many contain glue and with continued use can be very drying to eyelashes.
Fave
VMV Hypoallergenics Ohh-La-Lash is a glue-free, volumizing mascara that glides on, doesn't clump, and stays put. It comes in black.
Or, try lash tinting. It's perfect for long lasting color on the lash. Remember – lash tinting darkens your lashes, but it doesn't coat and thicken your lashes like mascara.
 *Katrina's always reluctant to include her own products in her posts, but they're great and we love them, so we insist!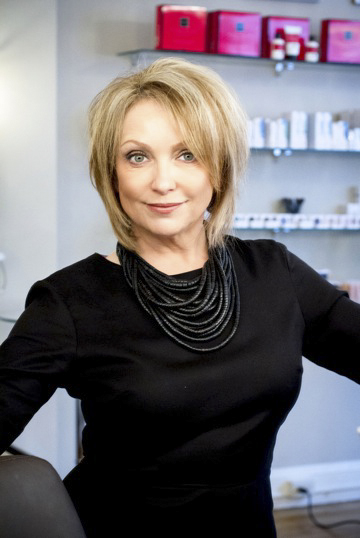 Contributing Beauty Editor Katrina Hess is a licensed Cosmetologist and local beauty legend. Katrina's experience and expertise spans the globe. She's been featured in top beauty and fashion magazines as well as many newspapers, magazines and TV programs. Katrina's won Boston Magazine's "Best of Boston Makeup Artist" five times, and Allure Magazine's "Best of Best Brow Shaping" twice. Katrina also volunteers for the American Cancer Society's "Look Good…Feel Better" program that helps women cope with the appearance side effects of cancer treatment. www.katrinahess.com