Katrina is booking in-person or online sessions at her beautiful Newbury Street studio, where you can learn about your best colors and easy makeup techniques. www.katrinahess.com/contact
By Contributing Beauty Editor Katrina Hess
Now that the holidays are approaching – even if we're visiting with family and having Girls' Nights Out just over Zoom – why not give yourself a lift and play with holiday makeup looks? And few cosmetics say "holiday fun" more than false lashes.
Don't be intimated by the thought of applying false lashes. Today's lashes and tools are much better than in years past. You can find good quality lashes at beauty supply stores and even at CVS and Walgreens. Application is easy once you practice a couple of times.
With the right tools and a little practice anyone can achieve lash fabulousness!
Tools
You'll need…
Individual, strip or partial strip lashes
Lash adhesive (DUO makes latex and latex free white and dark colors)
Flat tip tweezers
Mirror (I like a magnifying mirror that tilts)
Lash comb
Fresh mascara
First Things First…
The Basics – these steps apply whether you're using individual false lashes or strips…
Comb lashes to separate them
Apply a light coat of mascara; this helps fine and sparse lashes adhere to the fake lash
Comb your lashes again
Apply your choice of lash
For Individual Lashes…
Pick up the lash with your tweezer, and dip the knotted end into a small amount of glue.
Count to 10 so the glue becomes slightly sticky.
Drop the lash in the most sparse area of the eyelid first. It's best to work simultaneously, to let the lash dry from eye to eye.
Apply lashes a distance apart to let dry.
Wait until the lash is completely dry, to avoid having it move.
Go back and forth between eyes. I like to apply odd numbers of lashes – 3, 5, or 7 per/eye.
For Strip/Partial Strip Lashes…
Do the "Basic" steps, 1-4. Then…
Measure the length and width of the strip before gluing.
Take the lash without glue and lay it on area lash line for size. If it's too wide, snip off the inner corner of the fake lash. Never cut the outer lash.
Use a tweezer to hold and apply the lash.
Use a small applicator to apply a small amount of glue to the lash. Count to 10, then place the lash on the lid.
Start the application in the center of the eye and press the edges down. Hold and count to 20.
Look at all angles in the mirror to make sure you have no gaps and that the lashes are even.
And for added pop, you can apply mascara.
Next month I'll continue my holiday makeup ideas with a look at beautiful eye and lip colors!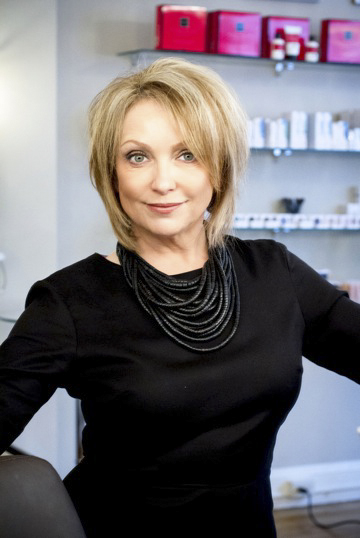 Katrina Hess is a licensed Cosmetologist and local beauty legend whose experience and expertise spans the globe. She's featured in top beauty and fashion magazines, newspapers, magazines, and TV programs. Katrina's won Boston Magazine's "Best of Boston Makeup Artist" 5 times, and Allure Magazine's "Best of Best Brow Shaping" twice. At her Newbury Street salon Katrina offers unique products that are organic to high-end. Katrina volunteered for 15+ years for the American Cancer Society's "Look Good…Feel Better" program. www.katrinahess.com