Lusterity is a woman-owned Boston company that's donated over 1,000 masks to the community. Now Lusterity is offering its great looking masks online – with fabric you choose from their wide selection! We were delighted to catch up with Co-Founder Sierra Rothberg…
Sierra, how did you get the idea to establish Lusterity?
In 2013, I helped produce a massive celebration for my children's school. The Mather School is the nation's first public elementary school and we were celebrating 375 years. The events were complex and spread over the whole school year.
At the end of that year of celebrations and events, people were asking "what's next for you?" I had co-led with another mother at the school and we really enjoyed working together. So with the encouragement of folks around us and the glow of pride at our successful year, we started to seriously think about working together beyond this one project. We realized we shared a love for design, strong values and ability to create immersive experiences for big groups. In founding Lusterity, we sought growth, community and mentorship through various local business incubators. Additionally, we were lucky to have been chosen to be part of the Babson Women In Innovation program. 
Lusterity started with values-based lifting of small businesses and some event planning. My co-founder and I were so in love with beautiful design and easily excited by the passion of makers we wanted to lift up. We learned a lot and the company has changed so much in the last 7 years. My co-founder moved on to follow other passions and I have continued to grow and refine my business. With this early support and a continued focused drive, I've grown Lusterity to launch into what it is today. 
These days, our team includes two staff folks and an extended network of local creatives. We pride ourselves in helping to transform client ideas into reality no matter the challenge. We offer interior design for residential and commercial, graphic design, website and packaging design. In terms of events, we have planned and implemented everything from weddings to memorials to adult, kid birthdays, community events and even a Boston Public Park opening. Every event is unique to the needs of the client and the space. We love the ability to be creative and help lift up everyday events and spaces in an ethical and beautiful way.
Do you have an idea of how many masks you've donated?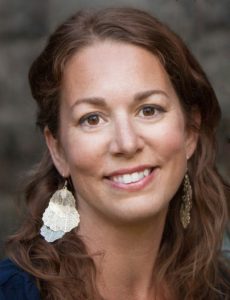 Lusterity has donated over 1,400 masks. Some were part of the Boston Area Mask Initiative, but most were given directly to schools, essential service providers, individuals, and even people identified through the City Councilors as people in their district who needed support. 
I am also a co-leader of a Girl Scout Troop that has been together for eight years (now the girls are ages 11-15). I knew that I could get the troop to help out with the masks too. Early on, we understood that any available masks needed to go to healthcare workers, but other essential workers were also in great need of PPE and it was not as easily accessible for them. We had a relationship with a local Shaw's Market as they had been a supporter of our cookie sale as well as our plastic bag ban campaign. When I reached out to them, they were thrilled to accept our support with the handmade masks. I cut and prepped material for a mask drive for the grocery workers. 
The Girls Scouts sewed 80 masks and I made an additional 100. We were able to finish and deliver 180 in just a few days. Now, whenever I happen to be in that store my heart jumps a little with joy when I see those masks in use. After that push, I orchestrated the Troop to make headbands to make the masks more comfortable for medical workers and essential workers. My girls made the headbands with jersey blends and my massive stash of buttons – thank goodness for years of collecting! My two children 11 and 15 have become textile production pros by now, and they both have their strong suits, so they were hugely helpful in getting so many masks and mask accessories out to folks who need them. 
Where do you make the masks, and where do you get the fabrics? 
As granddaughters of a quilter, my sister and I inherited a love of sewing, in addition to much of her quilting and sewing tools.
In 2017, I founded Boomerang Bags Boston to support the single-use-plastic bag ban in Boston. As part of that effort, we developed a 16-step assembly line process for making reusable fabric bags for distribution to low-income and elderly communities. We made and distributed 2,500 bags over three years. For this project, we accepted donated fabrics and worked on upcycling as much as possible. 
Mask making was a very easy transition. I have a sewing studio set up in my house and we already had quite a stash of fabric. I LOVE a local fabric store called Sewfisticated. They have beautiful and very affordable fabrics. If it is wrong to love so many fabrics, textiles and design, I don't want to be right. Mask making does not require a lot of fabric so buying remainders is an affordable way to make tons of masks. After watching a few videos, I immediately started iterating and decided to make my own instructional video. I definitely channeled my grandmother's love of perfection, protocol and ironing. 
How can people purchase masks?
Visit www.lusterity.com/masksforall or email me at [email protected]. We take bulk orders in addition to singles and we do custom sizing. We generally recommend folks have four masks per person in the household and that you refresh your supply every six weeks or so. 
Lusterity, 28 Ditson Street, Dorchester, 617.967.8806, www.lusterity.com