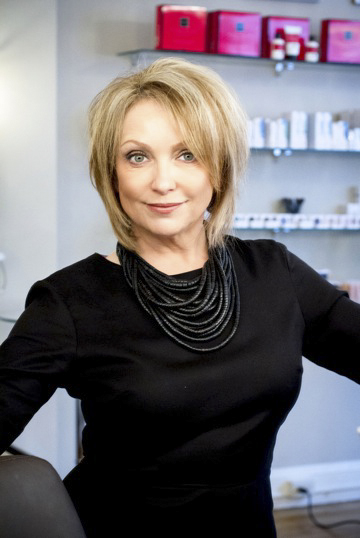 Contributing Editor Katrina Hess is a licensed Cosmetologist and local beauty legend. Katrina's experience and expertise spans the globe. She's been featured in top beauty and fashion magazines as well as many newspapers, magazines and TV programs. Katrina's won Boston Magazine's "Best of Boston Makeup Artist" five times, and Allure Magazine's "Best of Best Brow Shaping" twice. Katrina also volunteers for the American Cancer Society's "Look Good…Feel Better" program that helps women cope with the appearance side effects of cancer treatment.
The Makeup Mistake Women 60+ Make

They don't wear enough makeup! You need to use enough product to create a polished and refreshed look. Clients tell me they want to go more natural, but you need a little more product to make your skin look fresh.
Tips & Techniques to Look Great
When you reach 60 it's a good idea to have your skin and makeup routines re-evaluated by a professional. During this time of COVID-19 I'm using a virtual app to help women re-evaluate their makeup, so they can change up their looks even from home.
For example, if your eyelids have become hooded, apply a neutral color from your brow to the crease. Next, apply a heavy color – like dark brown or dark gray – from the lash line to the crease. This will give the effect of recessing the lid.
And it's important to use the right texture. I steer my older clients away from shimmer and glimmer. You want to use products that give you a matte finish for day. For evening, illuminating finishes can be pretty under the brow and above the cheekbone.
The goal is to lift the face. We've all seen contouring with dark stripes, but older women should do what I call reverse contouring. Do your foundation in a color as close to your skin tone as possible. Then, take a lighter foundation or concealer and apply a "stripe" from the corner of your inner eye down to your mouth. Apply another stripe going from corner of your eye to your temple, and another stripe from to the corner of your lid. These techniques will lift and lighten your face.
Caring for Your Skin
For hydration, think oil. It's one of the best things to hydrate skin because it penetrates faster than cream. My favorite is from an organic company that has super antioxidants to plump and hydrate. You can use it under foundation, mixed with foundation, or as an overnight treatment.
And, you don't need to spend $500 for a face cream. Whole Foods and even Walgreens offers good products. At my salon we offer excellent products and skincare kits for all skin types at affordable price points. All our products – whether they're our own private label or from skincare experts like Olga Lorencin – are hypoallergenic as well as cruelty, oil, fragrance and paraben free.
An Easy, Everyday Makeup Routine
You want to brighten your face. First, even your skin tone with a sheer mineral tint. My best-selling product is our KH Mineral Sheer Tint, which is SPF 20 and comes in four shades. It's great for more mature skin because it gives coverage without looking heavy. Apply a bronzer or blush – my favorites are blushes and highlighters from Kevin Aucoin, especially the Neo blush. Then, exfoliate your lips and apply a lip balm or light tint. And pay attention to your brows. It's amazing how many women don't focus on their brows, but we lose hair from the arch to the tail as we age. Remove the unnecessary hair to make the brow more prominent, then use a brow tint or gel. 
Katrina Hess i115 Newbury Street, Suite 301, Boston,  781.710.6865 www katrinahess.com
And, for tips and trends for spring/summer makeup and skincare we can do from home, you can visit Katrina on Instagram: @katrinahessmakeup.