By Hearth & Home Editor Deborah Carducci
Now that we're spending more time outside, it's time to take a look at how the exterior of your home looks to visitors and passers-by. Here are four quick steps you can take for an inviting new look…
1. Update your Palette
Why not refresh your exterior house and shutter colors to cooler tones utilizing palettes of grey, white and black? A neutral blue is also quite appealing. As this could be an expensive option, a possible compromise would be choosing to paint the trim and shutters if you have an already neutral house color.
2. Tidy up Landscaping
If you are unable to change exterior house or shutter colors, this step is especially helpful. Trim back any overgrowth of branches, twigs and lifeless areas from shrubs. If your shrubs are dead at the bottom but green at the top, it's time to replace them. Utilize your local garden center to find budget friendly options. Vary heights and colors (even a variation of green is lovely) to create interest and texture. There is nothing worse than overgrown shrubs encroaching on your walkways or your home. Be sure to trim away from your siding for a clean line. Edge the beds to create a defined border. Replace or add mulch to complete your design.
3. Mind your Walkways
Repair or replace fragmented walkways with new pavers. It may be best to hire a professional for this project, as there are several layers and steps to getting it right. Pavers are available in different colors, shapes and sizes, which will help determine the cost of the materials. This step can be as simple or elaborate as your design and dollars allow. Curved walkways and patterns are labor intensive and can be expensive. If you keep it straight and simple, your result will be crisp and budget friendly.
4. Paint your Front Door
Even if your current color looks great, give your front door a fresh new coat paint to clean up any blemishes and freshen the sheen. By far the quickest and most cost-efficient item on the list, this simple DIY task will set the tone as you, family and friends enter your home.
All of these changes can help to create happiness and bring a smile to everyone who sees your home!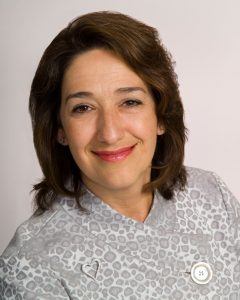 As an Interior Designer, Deborah has devoted over 25 years to transforming primary and secondary residences and commercial office space throughout New England. Deborah says "good design starts with a great conversation." She guides clients through the creative process from the initial consultation through design and installation. Her love of textiles, the influence of color, and creative design allow her to present a unique interior and experience for each client. Deborah also created Villa Lusso, a luxury brand of Italian inspired scented soy candles available through boutiques and her Etsy shop. In 2020 Deborah published her first book (under her nom de plume, Angelina DiVersa), "It's a Pillow, Not a Kidney" about an eager-to-please designer and her drama/comedy filled interior design business. It's a funny, informative book for anyone who ever had to or wants to decorate any space – meaning all of us. Learn more about Deborah by visiting www.carduccidesigngroup.com