By Hearth & Home Editor Deborah Carducci
It's a whole new year, giving us a fresh new start! Time to shake things up in your homes! Replace that chipped dinnerware, replace your table linens and trade out small appliances that just aren't performing as well as they used to. I've come up with a 3 of my new fun finds to share with you as you make this the best year ever.
1. The Cuisinart TOA-65 Digital Air Fryer Toaster Oven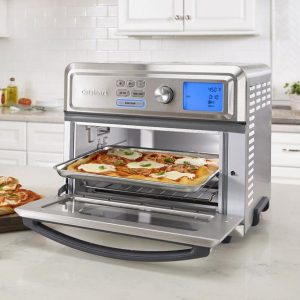 Kitchen countertops are always precious real estate. Appliances can take up a lot of space, with several of them performing only one task. I began researching air fryer combination products and found a Cuisinart appliance to be a delightful option that does it all. This full size toaster oven bakes, broils and toasts and includes a built-in air fryer for a healthy option for frying crispy bacon, wings, chips and fries. With many adjustments available for temperature and time, the possibilities are endless.
The retail price for the digital unit is $299.00 but is also available (non-digital) for $229.00.
I found this great recipe below and had to try it as my husband and I love to snack while watching sports on the weekends. By using the air fryer, we found a great way to incorporate healthier options with minimal prep and cooking.
Bell Pepper Snacks (Makes 4 Servings)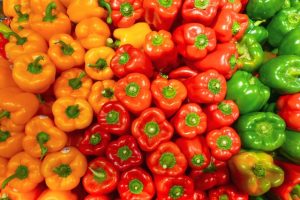 Ingredients:
Olive oil for spritzing (I use Pam Olive Spray)
2/3 cup panko crumbs
½ teaspoon paprika
½ teaspoon garlic powder
½ teaspoon salt
½ teaspoon black pepper
1 large egg, beaten
2 large bell peppers, seeded and cut into ½ inch thick slices (You can use any color/choice you like)
Easy Instructions:
1. Spritz air fryer basket lightly with oil
2. Combine panko crumbs, paprika, garlic powder, black pepper and salt in a medium shallow bowl
3. Combine the beaten egg and water in a small shallow bowl to make a wash
4. Dip the bell pepper slices in the egg wash to coat
5. Dredge the coated bell pepper slices in the seasoned panko crumbs to lightly coat
6. Place the panko coated bell pepper slices
7. Lightly spray the bell pepper strips with oil
8. Air fry at 400º for 4-7 minutes or until the panko crumbs are lightly browned
9. Carefully remove from air fryer basket to ensure panko coating does not come off
Serve immediately. The most difficult part of this recipe is finding the right dipping sauce for your taste!
2. Dinnerware and Table Linens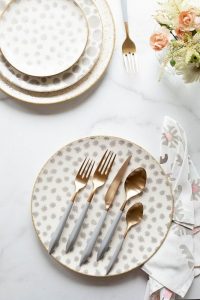 Too many times we overlook our dinnerware (the actual work horses of the kitchen) and their flaws. Dishes may have small chips, marks from silverware and overall wear and tear which seems to accumulate without any notice. They serve us several times daily as backdrops for meals and conversation until the day they look, well…tired. Consider sprucing up your kitchen with a new set of dishes. I also love the concept of mix and match dinnerware for every day casual dinners.
One of the companies I love to work with is Vietri which began when 3 women (2 sisters and their mother) took a trip to Italy and fell in love with the Italian culture and visited the small town of Vietri. I have been there as well and the number of talented artisans and their little shops full of beautiful dishes and pottery was well worth the trip to this treasure on the Amalfi coast. The Vietri company has lovely dinnerware, flatware, drinkware and a wonderful line of complimentary linens. If you're tired of playing it safe – aka, using neutrals – why not pair 1 of their fun dinnerware patterns or color splashed napkins to enhance that table setting?  www.vietri.com
3. Fandoliers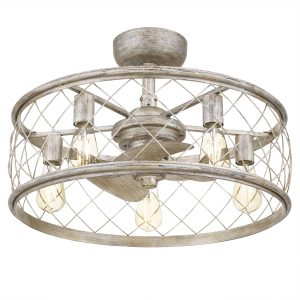 A lot of my interior design clients love their ceiling fans for air flow and comfort. It can be challenging to find a fan that will work with their interior design theme and overall taste without looking industrial or being the focal point in the room.
Fandoliers have been a welcome discovery. They are not available in every style, but the concept is based on a decorative light fixture (chandelier) with internal fan blades to use when you need air flow. This is a great option for clients, and a total win-win for the design industry. As you know, I love a multi-purpose product, which makes this find a designer's dream. Pictured is Quoizel's Dury Fandolier in Century Silver Leaf.
Wishing you a warm and cozy month!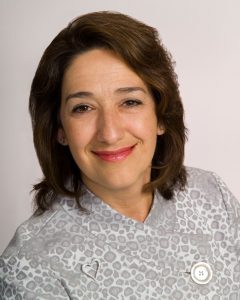 As an Interior Designer, Deborah has devoted over 25 years to transforming primary and secondary residences and commercial office space throughout New England. Deborah says "good design starts with a great conversation." She guides clients through the creative process from the initial consultation through design and installation. Her love of textiles, the influence of color, and creative design allow her to present a unique interior and experience for each client. Deborah also created Villa Lusso, a luxury brand of Italian inspired scented soy candles available through boutiques and her Etsy shop. In 2020 Deborah published her first book (under her nom de plume, Angelina DiVersa), "It's a Pillow, Not a Kidney" about an eager-to-please designer and her drama/comedy filled interior design business. It's a funny, informative book for anyone who ever had to or wants to decorate any space – meaning all of us. Learn more about Deborah by visiting www.carduccidesigngroup.com