We were delighted to catch up with Margot Brodie and Susan Doherty, founders of OM Your Life, for women who want to enter their second – or third! act with strength and purpose. They offer yoga, Pilates and meditation to women in menopause and post-menopause online, and at their Norwell location….
Ladies, welcome! Tell us about your programs.
We are so proud of OM Your Life and empowHERed Menopause. We have taken yoga together, trained together and dreamt together about having our own "yoga thing" for many years. When we both became empty nesters, we ramped up our education and training, and bounced from gym to studio and back to teach many different audiences. When the pandemic hit, we put our heads together to find the right ways to reach women who were suddenly stuck at home, sitting in their feelings. Our hope was to keep women moving and connected to each other during challenging times.
Along with meditation, we offer yoga Nidra, Pilates, monthly challenges, and special events. Whether you join us at the OM Center or online, OM Your Life has become a place for women 45 and over to connect. Women in different phases of menopause needsupport and connection. This is why we created empowHERed.
How do you work with clients?
Every woman has the strength within her to create, nurture and transform her own life, and to evolve to a place of power. It all begins with a deep breath, a commitment to self-care, and a desire to embrace a healthy lifestyle.
The goal of OM Your Life and empowHERed Menopause is to help women in midlife create mind-body solutions while appreciating and embracing the challenges of our changing bodies. We teach you to stand tall in your power, move with grace, exercise with grit, and take your place in a world that needs your wisdom and experience. Using our combined 20+ years of teaching yoga and Pilates, years of research and our own personal journeys of growth, we hope to inspire other women to live their best lives with strength, courage and wisdom.
Together we are stronger.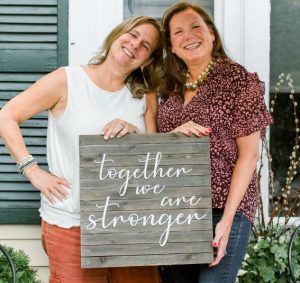 Visit omyourlifenow.com and contact Susan and Margot for more information at [email protected]