Now that we're in our 60s, 70s and beyond, we have a pretty good idea of who we are.
But what if you were at a social gathering and someone proposed you answer a list of questions – quickly, so you couldn't prepare your responses – that could reveal more about you? Would you do it?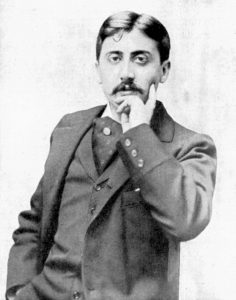 Marcel Proust is the French author who wrote the literary classic "In Search of Lost Time," a masterpiece that looks at how our past shapes us, and is always present. Proust was obsessed with asking people about their innermost thoughts so he could learn about human behavior. (He could be so relentless that when an adored Duchess, who was the model for one of his novel's main characters, returned from a trip she begged their circle not to tell him.)
He turned his desire to understand humanity into a parlor game in which friends, acquaintances and strangers would answer a set list of questions he believed would reveal their true nature.
Magazines publish interviews with celebrities based on what they call The Proust Questionnaire, but the questions aren't the ones he asked. His original questions are below. Answer each one quickly, and see if your responses surprise you. Post your responses on our Facebook page so we can learn more about you, too! www.facebook.com/brendaaftersixty
The Proust Questionnaire
Your favorite virtue:
Your favorite qualities in a man:
Your favorite qualities in a woman:
Your chief characteristic:
What you appreciate the most in your friends:
Your main fault:
Your favorite occupation:
Your idea of happiness:
Your idea of misery:
If not yourself, who would you be?
Where would you like to live?
Your favorite color and flower:
Your favorite bird:
Your favorite prose authors:
Your favorite poets:
Your favorite heroes in fiction:
Your favorite heroines in fiction:
Your favorite painters and composers: