Great news! You can book in-person or online sessions with Katrina to learn your best colors and easy-to-do application techniques at www.katrinahess.com/contact/
By Contributing Beauty Editor Katrina Hess
Now that we've entered fall it's time to put summer's bright colors away and move into more natural colors.
One of the many things I love about my career is that I get to explore makeup formulations and colors from a variety of companies. My recommendations for a refreshed look for fall include excellent products you can find at CVS and Walgreens as well as high end shops.
Eyes
For an easy-to-do eye that looks natural and professional, start by applying an eyeshadow base that's one or two tones lighter than your skin. This will cancel out redness or discoloration on your eyelids. Avoid putting the base just under your brow.
Then, apply a medium (two tones darker than skin) shadow on your lids and into your eye crease. I use a small eyeshadow brush when I want to apply color on the lower lid, working it into the lash line.
Use your an eyeliner pencil – it can be fat or thin – and draw a line close to your upper lashes. With a small, stiff brush, use feather strokes across your lid to smudge the eyeliner. This technique works on your lower lash line as well. But, you want to keep your upper eyelid liner darker or heavier than the lower. And it doesn't have to be perfect – you want a relaxed, smoky look. Then, finish by curling your lashes and apply mascara.
A nude shadow and a smudged eyeliner goes well with lip colors from dark to light (my favorite lip colors right now are Stila Stay All Day Liquid Lipsticks).
Katrina's Picks
Laura Mercier Morning Dew is a pink-toned eyeshadow (I like all Laura Mercier's eyeshadow colors!)
Stila Cosmetics Matte 'N Metal Eye Shadow Palette 
Kevyn Aucion Emphasized Eye Design Palette in "Focused" is light with a touch of glow
IT Cosmetics Lash Blow Out Mascara
Kevyn Aucoin Eyelash Curler 
Kevyn Aucoin The Precision Eye Definer
Urban Decay Glide-On Eye Pencil
Milani Metallic Lights Foil Eyeliner
And, if you want to be a little adventurous with your eye look, try matching your mascara to your eye color! It's flirty and fun, especially if you have blue or green eyes. Add even more pizazz by using a sparkly eyeliner. And why not match your eye colors to your mask!
Face
Get the look of radiant, glowing skin with a dewy tint and or a light shimmer accent color.
Katrina's Picks
Stila Trifecta Metallica Lip, Eye & Cheek Stick (this is a one-stop, one-swipe shimmering stick you can use on your eyes, lips and cheeks)
Katrina Hess Sheer Mineral Tint, available in 4 shades [Editor's Note: We added Katrina's tints because we love them!)
Brows
Brows are a key for expression. They frame your face and accent your eyes, especially at this time when protective masks are often essential. You want to groom your brows without making them look overdone. The current brow trend is less defined, more natural and fluffy. Use a tinted brow gel and pencil will fill in and define your brows.
Katrina's Picks
Damone Roberts Tinted Eyebrow Gel
Sigma Beauty Color + Shape Brow Powder
Have fun, and I'll be back next month with more ideas.  And let me know what you'd like to learn more about!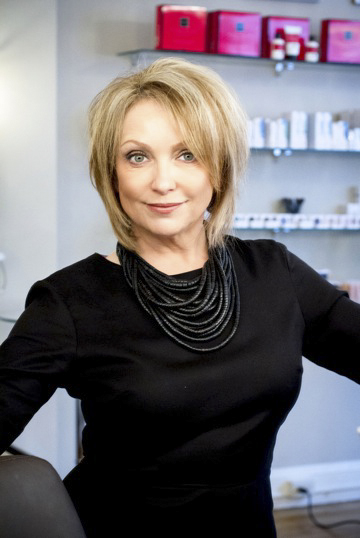 Katrina Hess is a licensed Cosmetologist and local beauty legend whose experience and expertise spans the globe. She's featured in top beauty and fashion magazines, newspapers, magazines, and TV programs. Katrina's won Boston Magazine's "Best of Boston Makeup Artist" 5 times, and Allure Magazine's "Best of Best Brow Shaping" twice. At her Newbury Street salon Katrina offers unique products that are organic to high-end. Katrina volunteered for 15+ years for the American Cancer Society's "Look Good…Feel Better" program. www.katrinahess.com