By Contributing Editor for Beauty & Skincare Katrina Hess 
Get ready for the holidays with Katrina's special promotion! In November or December book your private, 2-hour makeup lesson at her Newbury Street, Boston studio – including pocket guides, samples, a face chart and a gift – all for $250, $50 off regular price. Email Katrina at [email protected]
Clients and stylists often ask me what's my favorite mascara. There's no one answer to that question because there are so many different types of lashes, and lots of good product choices. Let's get started!
What Kind of Lashes Do I Have?
Are they…

Short and straight, fine or thick
Thick and straight, or thick and curly
Fine, sparse and long
Fine, sparse and short
How Do I Choose a Mascara Brush?
The brush is the heart of the mascara! There are so many brush types available, depending on your lash type and how you want them to look. All these mascaras have the added bonus of being certified cruelty-free…
Curly Dense Lashes – use a thick oversized brush. I recommend Two-Faced Better Than Sex mascara.
Curly, Short, Fine Lashes – you want a long, skinny brush. Try Covergirl Lash Blast Volume Waterproof mascara.
Sparse Lashes – use an hourglass-shaped brush, like VMV Ooh-La -Lash! Or, use a ball-shaped brush. For this type of application I like IT Cosmetics "Hello Lashes." I also like Ilia Fullest Volumizing Mascara to give sparse lashes more volume.
Fine lashes – my new favorite mascara is the award-winning Ilia Limitless Lash formula.
To get the benefits of using a double ended brush, I like Lash Star Full Control Lash mascara. Use the larger brush for your top lashes, and the bottom brush for your lower lashes.
And, if you want natural looking lashes regardless of how long or thick they are, stick with a standard tree-shaped brush. I like Thrive Cosmetics Liquid Lash Extensions.
How Long Does My Mascara Last?
Once you open your mascara, if you use it about every day it will last 2-3 months. Waterproof mascara lasts less, and you need a special "eye makeup" remover. But it's great if the weather is hot or you're attending an event like a wedding, where you might shed a tear or two.
What's the Secret for a Professional Application?
Start at the root of your lashes, and wiggle and turn the brush to create volume at the root.
Work your way to the ends of your lashes and continue to turn the brush to get the mascara that's on the brush.
Apply a bond coat to the middle and ends of your lashes. Bend the lashes up and out to create a flare.
I like to work one eye at a time while the mascara is wet.
If you want to use your mascara on your lower lashes, try using the tip of the brush and apply it in a vertical direction.
When Should I Toss my Mascara?
Regardless of whether you use it every day or once a week, you should toss your mascara 3 months after you open it. Your mascara gets contaminated with germs over time, and you can risk eye infections and irritation if you keep it longer than 3 months.
Have fun! -Katrina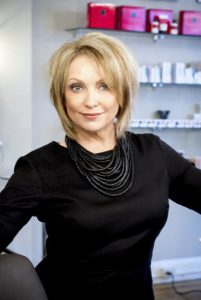 Katrina Hess is a licensed Cosmetologist, which is rare among makeup artists. She's a local beauty legend whose experience and expertise spans the globe. Katrina has been featured in top beauty and fashion magazines, newspapers, magazines, and TV programs. Katrina's won Boston Magazine's "Best of Boston Makeup Artist" 5 times, and Allure Magazine's "Best of Best Brow Shaping" twice. At her Newbury Street salon Katrina offers unique products that are organic to high-end. Katrina volunteered for 15+ years for the American Cancer Society's "Look Good…Feel Better" program. See how Katrina can help you maintain healthy skin and learn easy beauty routines, and much more, at www.katrinahess.com