By Deborah Carducci, Contributing Editor for Hearth & Home
With the countdown to September softly approaching, it's never too early to begin thinking about decorating for fall. Living in New England, we are treated to the most stunning color palette every time we walk out our front doors.
I've been keeping an eye on home trends throughout the year and I'm happy to share my top five trends for the home.
1. Natural Wood Cabinetry and Rustic Tables.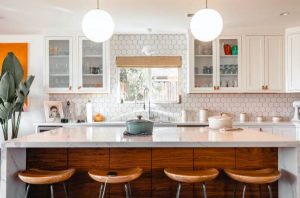 This trend is emerging after a decade of white painted wood. The genuine beauty of hickory and walnut woods are appearing in bathroom vanities and kitchen islands. When choosing a vanity with a dark stain or graining, it's best to pair it with a clean white countertop for high contrast. Kitchen islands are taking center stage with their natural wood beauty, pairing well with white wall cabinetry. They are also becoming popular for dining and accent tables. No need for matching. Let this beautiful wood be the star of your room.
2. Versatile Furniture. This is a concept I've always tried to incorporate when planning furniture design and layout. The idea is to have some "modular" furniture items – that is, small chairs, nested tables, benches, etc. available when you need them. As empty nesters, we don't need to clutter up our living spaces with seating we only require for the occasional get-together or at holiday time. When selecting a small bench or chair for a bedroom or hallway, make sure the style will work well with your overall color scheme and décor so you can bring it in when you are entertaining.
3 Guest Room Re-purposing. Lately, most empty nesters are ending up with pretty guest rooms they don't use. Why not repurpose this room as a dressing room? With great closet systems available that look like furniture, you can create a unique layout for all your clothing, shoes, hand bags and even the off season clothes that never seem to find a home and end up cluttering coat closets. Homeowners are using less "long hang" areas these days, so why not take advantage with a double hang rack for all your separates? Drawers for jewelry and lingerie will help organize smaller items. If you have the room, add a small chaise or ottoman to make it easier for planning and dressing in your room.
4. Wallcovering Has Made an Official Comeback! We are seeing wallcoverings on all types of walls but mostly used as an accent. Hallways and foyers are instantly warmed up by adding a great wallcovering texture or color. Grass cloth, metallics and patterns are adorning the walls of half baths and primary baths in an attempt to liven up painted walls and create depth. Designer Tip: If you are unsure you want an installed wallpaper, try out one of the peel and stick options available at home centers. They are very easy to install once you draw a level vertical line as your starting point. They can be trimmed with scissors and best of all are easy to peel back (without tearing) should you need to straighten them a bit.
5. Craving Fall Colors? The best way to include brilliant colors of rich gold, deep burgundy and dramatic sapphire in your home is by incorporating them in small doses (unless this is already part of your color scheme.) Consider adding accents such as a new table cloth, placemats, or towels to merge these rich jeweled tones into your existing décor. Designer hint: If you love these colors in small doses, try adding a glass vase(s) or candlesticks to your mantle or cocktail table. Always remember that groupings of threes or fives create the most interest.
Enjoy the rest of the summer! I'll be working on some great tips for fall cooking, decorating and entertaining that I can't wait to share with you.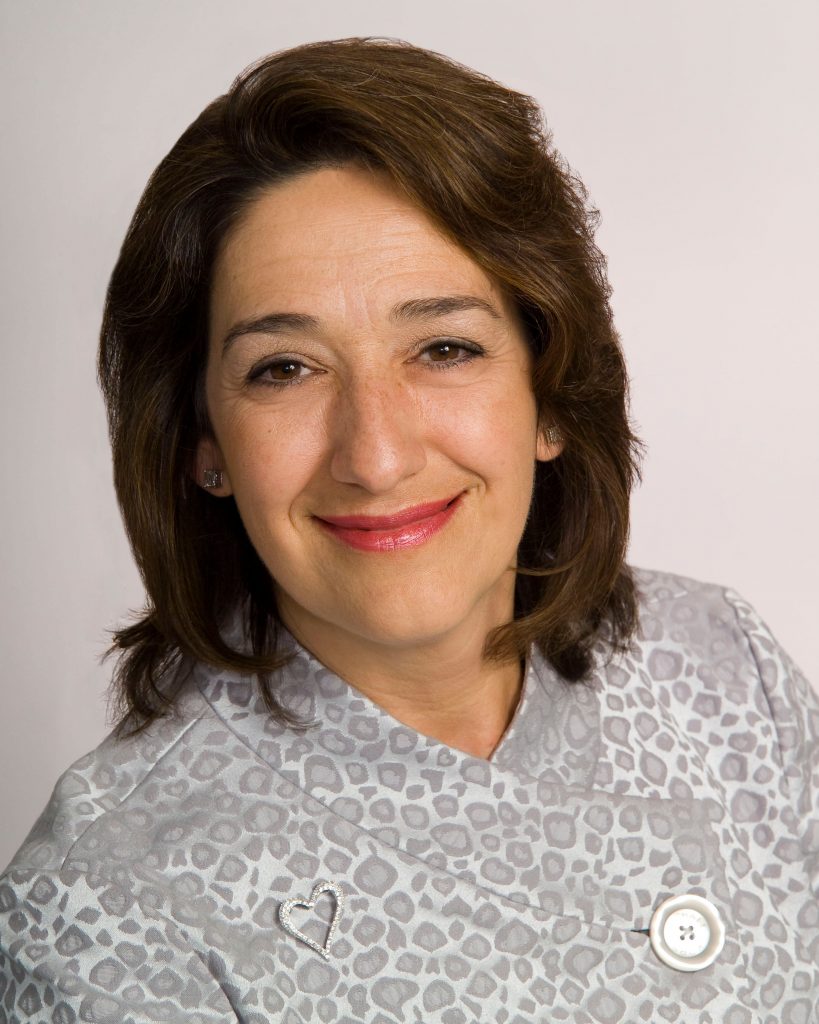 As an Interior Designer, Deborah has devoted over 25 years to transforming primary and secondary residences and commercial office space throughout New England. Deborah says "good design starts with a great conversation." She guides clients through the creative process from the initial consultation through design and installation. Her love of textiles, the influence of color, and creative design allow her to present a unique interior and experience for each client. Deborah also created Villa Lusso, a luxury brand of Italian inspired scented soy candles available through boutiques and her Etsy shop. In 2020 Deborah published her first book (under her nom de plume, Angelina DiVersa), "It's a Pillow, Not a Kidney" about an eager-to-please designer and her drama/comedy filled interior design business. It's a funny, informative book for anyone who ever had to or wants to decorate any space – meaning all of us. Learn more about Deborah by visiting www.carduccidesigngroup.com