By Arts & Culture Editor Joan Kirschner
Our three-day getaway started in Massachusetts's Berkshires and continued into New York's Catskills. We hit the Mass Pike early to get a jump on the day. From the Lee exit, we headed to Great Barrington (just follow the signs) for a walk and quick bite at Fuel.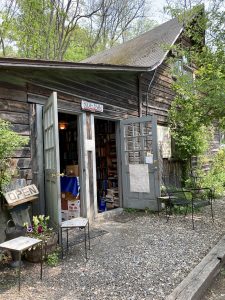 Heading west on Rt. 23, we browsed the well-priced stock at Rodgers Book Barn in Hillsdale, NY. Proprietor Maureen Rodgers, a former Londoner, has run the store for over 50 years. Among my finds: a 1928 edition of Willa Cather's Death Comes for the Archbishop, a funky 1969 guide to London's East End (of family significance), and a 1949 paperback of Stephen Crane's The Red Badge of Courage with a cover by illustrator John Allen Maxwell.
We picnicked at Olana, the picturesque Middle Eastern-inspired estate of Hudson River School painter Frederic Church, now a New York State Historic Site and park. Beautiful in summer, it's breathtaking in fall, with mountain and Hudson River views.
Just north of Olana is Hudson, a gentrifying small city. Warren Street is lined with boutiques, galleries, and restaurants. Some scenes in the 1994 movie, "Nobody's Fool" (based on the book by Richard Russo) starring Paul Newman, Jessica Tandy, Bruce Willis, and Melanie Griffith, were shot there (and in Beacon, about 65 miles south), reflecting the pre-gentrified look and feel of the area. Newman gave an award-winning performance.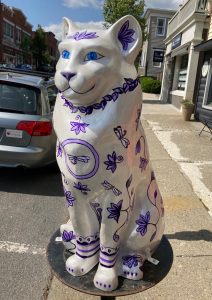 We crossed the wonderfully-named Rip Van Winkle Bridge to charming Catskill (the photo is of a Catskill cat!), for browsing and an afternoon pick-me-up at Citiot. Though the town's name is derived from the Dutch settlers' Kaaterskill, the sound-alike feline aspect is very much in evidence.
Scenic routes in the area offer mountain and waterfall views at every twist. We followed 23A, 214, and 28 to the village of Fleischmanns, where we checked in for two nights at the Arts Inn B&B.
Hosts Heidi and Randy are renovating this large Victorian home, with three guest rooms and spacious public spaces for reading and relaxing, plus a generous front porch and large back yard. They have a mission to promote the visual and performing arts – regularly organizing and hosting musical special events.
Purchasable art is part of the décor. It was our base for exploring the area's towns and villages, antiquing and thrifting, but it's also ideal for hiking, and
skiing in winter. "Catskill Country" tourism: Catskills.
Great pizza, grass-fed Angus burgers, and more are just down the road at Oakley's, with seating inside and out.
The following day, we took Rt. 28 east, then 212 to Woodstock, NY (yes, that Woodstock, though neither the original nor anniversary festivals occurred there), with attractive shops, restaurants, and galleries. Try Bread Alone Bakery before continuing east to Saugerties, for more browsing.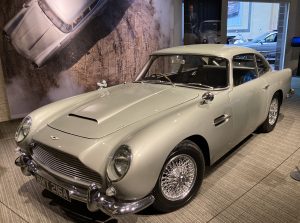 Our third day focused on Saratoga Springs, north of Albany via the NY Thruway (or Rt. 9W, if time is on your side). It's known for its racetrack and arts venues, but our destination was the Saratoga Auto Museum, currently displaying cars and film clips from the James Bond movies. Who's your favorite Bond?
We planned to head back via Bennington, VT, a favorite, but ran out of time. When there, we
hit the classic Blue Benn Diner. Crossing back into Massachusetts, next time we'll check out the Montague Book Mill, near Deerfield. From there, it's straight back on Rt. 2 then home.
More bookstores: Hobart Book Village, Hobart NY; Lyrical Ballad Bookstore, Saratoga Springs NY; Brattleboro Books, Brattleboro VT.
Love library sales and book fairs? Visit Book Sales

For upscale lifestyle and travel commentary from the Berkshires to the Catskills: The Mountains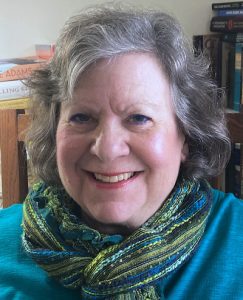 Joan Kirschner is a Boston area writer/blogger who reviews books, museum exhibitions, theater, film, music, and travel experiences. Her commentary previously appeared on SonsiWoman.com, UllaPopken.com, WomenofGloucesterCounty.com, Trazzler.com, and IndieReader.com. She attributes a lifelong love of reading and cultural events to parents who encouraged her interests early on. Joan began as a retail and mail order catalog copywriter when typewriters, carbon paper, X-Acto knives, and hot glue were found in advertising offices everywhere. She advanced through the ranks and changes in technology, eventually taking on corporate communications, social media, and digital advertising and promotion. She managed and mentored younger writers, acquired skills in art direction, and had responsibility for print and digital communications reaching millions of customers. Surrounded by the babble of languages in Manhattan and Brooklyn and sympathizing with the challenges of non-English speakers, she earned a certificate in the Teaching of English as Second Language (TESOL) and began teaching and tutoring adults and college students. Joan now works part-time in grants administration, freelances occasionally, and covers books and the arts at No Shortage of Words.