One of my favorite people in the world just lost her beloved pet of 17 years.
It's hard enough to lose a pet anytime, but losing a pet at the holidays is even harder. We're expected to keep up a happy front even when we just want to sit and cry.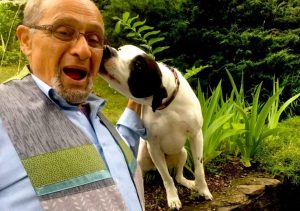 My big cousin, the Reverend Kaleel Sakakeeny, is an Animal Chaplain, credentialed pet loss and grief counselor, and member of the American Institute of Health Care Professionals. Cousin Kaleel is the Founder and Director of Boston-based Animal Talks, which is a nonprofit animal charity.
Cousin Kaleel says, "In a very real way, when we've lost our beloved pet-our beloved anyone-our world changes dramatically. We are not the same people we were before they passed. The house in which we gather, is no longer the same house. The Christmas Tree, candles, lighted windows and shared meals are not the tree, the lights or family meal we remember when our dog was running circles in excitement or the cat was batting ornaments and playing with ribbons. Holidays and grief do not mix well!"
If you'd like to talk with someone about your loss, visit animaltalksinc.com and their Facebook page, Animal Talks Inc. | Facebook
And if you'd like to make a tax-deductible donation to support their work, click here
They will be publishing posts about how we can hold and heal our grieving hearts in the midst of the swirl of holiday energy.
XO Brenda