We're guessing most of us have seen or heard about people having things – a painting, a piece of furniture, china etc. – in their houses for years, and then finding out that little end table was worth half a million dollars. Or the seascape hanging in the hallway was a Winslow Homer. Or the serving platter under all the other dishes was once owned by Marie Antoinette.
Now that many of us are at an age when we're starting to think of downsizing, or we have parents' houses to clean out, we wanted to know how to find out if our treasures really are treasures. So we sat down with local fine art appraiser Edward Stanley…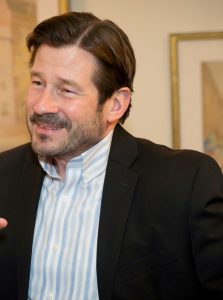 Edward, why should women who are downsizing, either from their own or a parent's home, have certain items appraised?
Downsizing can be a difficult process with many decisions to be made – what to keep, what to sell, what to distribute, what to donate, even what to throw away. In many cases with a household full of belongings, the disposition of items may raise questions about their identification and value. This is especially the case with works of fine art, antiques and decorative items. A professional appraisal of specified items may provide answers in what to do with treasured items in the downsizing process.
How might we know if art, furniture, rugs or lighting be valuable enough to insure?
A professional appraisal can be one step in the insurance scheduling process for a homeowner's policy. The first step in determining when a valuable item should be itemized in a policy is to consult with your insurance agent regarding coverage and threshold values for pieces to be itemized on a schedule. A professional appraiser can assist with the identification of the higher-valued items in a home (or elsewhere), including fine art, antique and designer furniture, oriental rugs, lighting and other items. A appraisal report can be completed on those items with higher values. That document would include brief descriptions of the specified items as well as their measurements, condition, images and the insurance replacement values.
How do you work with clients? It is all in person?
Prior to any appraisal examination of items, I discuss the individual needs of clients via email or telephone conversation. For example, what is the purpose for having an appraisal completed on their items? Some of the more frequent purposes are insurance scheduling, estate settlement, sale planning, charitable donation/tax deduction, distribution, division, and informational use.
To begin the actual appraisal process, an appointment is arranged for the examination of items. I work closely with clients, in their homes and elsewhere, in determining the identification of pieces, primarily focusing on the more highly valued items to be appraised and included on an appraisal document.

Have you ever come across a surprising treasure during an appraisal visit?
Treasures are always being discovered in my appraisal work!
There have been many fascinating "finds" over years of appraising items for clients, but two really stick out.
One was the fabulous wire sculpture created by famed American artist Alexander Calder for a friend while on a trans-Atlantic voyage in 1929. Depicting two pigs, the sculpture was hidden away in an exclusive club in Cambridge, and the organization had no idea of its high value. I determined that in order for the treasured piece to be included in a traveling exhibition of Calder's early works.
The second very surprising treasure I've uncovered was absolutely extraordinary! It was an extremely rare and historically valuable document depicting a 1780 order of battle created for General George Washington in the planning to rout the British forces from Manhattan during the American Revolution. The very large manuscript had been in the client's family for more than 200 years, by descent from Washington's nephew, George Steptoe Washington. I could only hope that this super rare piece of American history managed to find a home in a public archive or museum!
Edward, thank you for taking the time to educate us! We're going to take a closer look at our stuff today.
Edward Stanley Fine Art and Appraisal Services
617.983.5220
www.edwardmstanley.com