Stephen Henderson is an incredibly talented journalist. His writing brings you into a story as if you were standing right next to him while it was all happening. Stephen also has had a long and successful career in PR.
And, this year Stephen added book authorship to his long list of achievements, with the publication of his important and remarkable book, The 24-Hour Soup Kitchen.
After Stephen spent a week cooking at a soup kitchen in Delhi, India which feeds 20,000 people each day, he wanted to learn more about how people feed poor and hungry people around the world. His reading and global research about Gastrophilanthropy – giving to others through food – led him to write The 24-Hour Soup Kitchen. (The first Gastrophilanthropist was a 19th century chef named Alexis Soyer, who invented the soup kitchen in Victorian England.)
It's fascinating and heartwarming to read vignettes about one person's journey from making batches of cookies for local shelters, to volunteering to cook for great numbers of homeless and poor people all over the planet.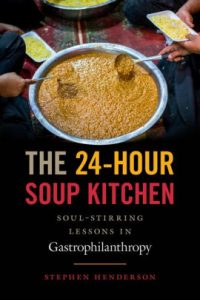 Order the book on Amazon by clicking here. We hope it inspires you as much as it did us.
The book's website – www.the24-hoursoupkitchen.com – has lots of interesting information about Stephen's journey and even includes recipes.
And, if you know a Gastrophilanthropist you'd like to honor, email Stephen at stephen@the24hoursoupkitchen.com
Here's information on local food pantries. We recommend calling ahead for hours of operation. And please let us know about your experiences, and if we should add food pantries to our list:
Boston
Greater Boston Food Bank, 70 South Bay Avenue, 617.427.5200, www.gbfb.org
Haley House, 23 Dartmouth Street, 617.236.8132, www.haleyhouse.org
Project Bread, 145 Border Street, East Boston, 617.723.5000, www.projectbread.org
Roslindale Congregational Church, 25 Cummins Highway, Roslindale, 617.323.8302, www.roscon.org
Braintree
Braintree Food Pantry, Grace Church at 14 Storrs Ave #2, 781.277.1609, www.braintreefoodpantry.org
Brookline
Brookline Food Pantry, 617.800.5339 www.brooklinefoodpantry.org
Cambridge
Food for Free, 11 Inman Square, 617.866.2900, www.foodforfree.org
Dedham
Dedham Food Pantry, 600 Washington Street, 781.320.9442, www.dedhamfoodpantry.org
Milton
Milton Community Food Pantry, 158 Blue Hills Parkway, 617.696.0221, www.miltonfoodpantry.org
Needham
Needham Community Council, 570 Hillside Avenue, 781.444.2415, www.needhamcommunitycouncil.org
Newton
Centre Street Food Pantry, 11 Homer Street, 617.340.9554, https://centrestreetfoodpantry.org
Somerville
Project Soup, 165 Broadway, 617.776-7687 (no website listed)